The joint JD/MBA candidate sees human resources as a way to unite her passions for law and business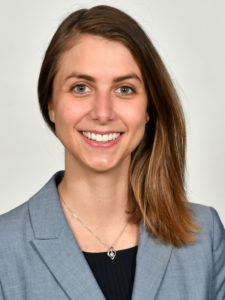 Hannah Keith (JD/MBA'18) studied theater and Italian during her undergraduate years at Northwestern University. While a student, she worked part-time in the office of alumni relations and development, and she accepted a full-time position there after graduation. But after a couple years, Keith began looking for the next intellectual challenge.
She decided that pursuing a joint degree in law and business would be a great way to round out her education and launch the next phase of her career. She researched universities that offered highly regarded graduate schools in both law and business, ultimately choosing Vanderbilt.
After two years at the law school, Keith spent her third year taking classes at Vanderbilt Business. (The joint JD/MBA program takes four years total.) Having completed two legal internships, Keith wanted to use her third summer to explore an internship on the business side.
Specifically, Keith was excited to leverage Owen's HOP program to pursue internships in Human Resources Management. After going through the recruiting process, Keith accepted a summer internship offer at American Express in the company's HR department.
"I think (HR) is a really nice marriage between my two disciplines, law and business," she said. "(In HR) you have to shape the policies of corporations, so there are a lot of legal considerations that come up on the front end." In addition to the legal edge of HR, Keith is looking forward to exploring other aspects of HR Management, such as talent management and learning & development opportunities.
Click through Keith's timeline below to find out how she landed the offer.