From classes to Capstone projects, everything you need to know about the Vanderbilt Business MMHC program
By Kara Sherrer
Practicing physicians, nurse clinical leaders, and non-clinical administrators are highly skilled at treating patients and navigating the complex world of healthcare. But when they find themselves in a new leadership position, they often realize their healthcare education didn't cover basic business topics they now need to know. That's why the Master of Management in Health Care (MMHC) is designed to transform practicing physicians, nurse clinical leaders, and non-clinical administrators into business leaders in only 12 months. Read on to discover the answers to the most frequently asked questions for the Vanderbilt Business MMHC program.
What is a Master of Management in Health Care?
The Master of Management in Health Care is an executive program for working adults from the healthcare industry. The MMHC program is designed for people who a) have worked in healthcare before and b) want to continue working in healthcare, but haven't had a previous chance to get business learning. Usually they have already taken on leadership roles in healthcare, or they are preparing to take on the roles. "It's designed to get you the basics of the business degree while still focusing you in healthcare," Wood said.
What will I study?
The MMHC 1-1-1 model is designed for working professionals: classes are taught one night a week, one weekend a month, for one year. The business core classes usually take place on Thursday nights, while the healthcare-specific courses are taught on the weekends. "All the core classes that you have in the day MBA program, you have in the MMHC," Wood said. For a program schedule and more detailed breakdown of specific classes Mod-by-Mod, click here.
Who attends the MMHC program?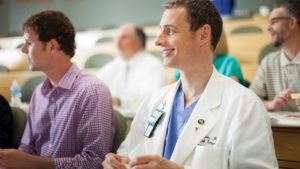 Most MMHC students have between 10 and 13 years of experiences in the healthcare industry, sometimes more. Usually the student body is approximately one-third physicians, one-third nurses and non-physician clinicians, and one-third non-clinical administrators. "Probably our biggest positive of the program is putting this group of people in a class that have varying backgrounds and have varying ideas and forcing them to work together," Wood said. "It helps them learn how to talk to each other."
How does MMHC compare to an Executive MBA program?
If prospective students are considering other options beyond the MMHC program, they're usually looking at an Executive MBA program. The MMHC has a shorter time frame (one year vs. two years), a focus on healthcare, and a more limited selection of classes due to the condensed schedule as compared to an Executive MBA program.
Prospective students looking to get more education in one area (operations, finance, etc.) or start their own business might want to look at an Executive MBA program. Given the MMHC's focus on healthcare, if prospective students are looking to make a career switch into or out of healthcare, the broader class selection of an EMBA might also be a better choice. "In that case, it is absolutely appropriate for them to be looking at the EMBA program instead of us," Wood said.
What is the work-life balance like?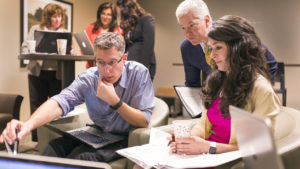 According to Wood, pretty much every major life event — childbirth, divorce, illness, even a house fire — has happened to a student over the course of MMHC's history. For support, Wood connects students with alumni who also went through the same thing while they were in the program. "It's never the perfect time. There's always something going on in your life…As stressful as your situation gets, we've had someone go through it and make it and be successful," Wood said. "We are a group of people dedicated to helping you do well. We don't want people to fail…I'm here to help you when life gets in the way.
Is the program online or residential? What if I have to miss class?
Unlike many other advanced degrees offered to healthcare executives, the Vanderbilt Business MMHC program is primarily residential, and classes are designed to be taken in person. The healthcare industry often revolves around relationships, and it can be hard to build those if you never meet your classmates in person. "We are really a residential program…It creates a camaraderie that you can't recreate fully in a distance program," Wood said.
That notwithstanding, the program does work with students since emergencies often arise at the last minute, especially for clinicians. Wood live broadcasts each Thursday evening class using interactive software, so students can participate remotely if need be. He also records them so that they can be viewed later. Many students also rely on their classmates in this scenario since so much of the work is group-based.
What is the capstone project?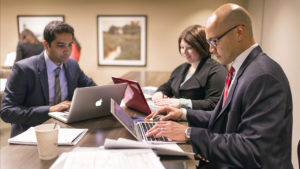 The capstone project allows students to apply their classroom knowledge to the real world. From January through the end of the program in the fall, students work in teams of 4-5 people on projects for healthcare organizations, from ideation to implementation. "Many of our capstone projects have been very successful for the medical center and (other companies)," Wood said.
What does tuition look like?
The Master of Management in Health Care program tuition for the 2018-19 academic year was $56,150 plus a materials fee of $4,500, which includes/covers books, supplies and meals while on campus. Limited scholarships are available for applicants. Some MMHC students receive financial support through their employers through sponsorships as well. "In 11 years of the program, I've never had anyone complain about the value they get for the money they pay," Wood noted. For more information about tuition, scholarships, and funding, visit the tuition page.
To learn more about the Master of Management in Health Care at Vanderbilt Business, visit the program page or request information.