The Professor of Accounting spearheaded entrepreneurial efforts at Owen for decades
By Nathaniel Luce
Germain Böer, Professor of Accounting Emeritus, passed away on April 22. He was 81.
Germain taught at Vanderbilt's Owen Graduate School of Management for 41 years. As a Professor of Accounting, he published dozens of articles in premier journals, authored and co-authored 12 books, and educated countless MBA, Executive MBA, and Executive Education students. As an unwavering champion of entrepreneurship at Owen, he taught, advised, and invested in generations of student entrepreneurs.
"Germain touched generations of alumni and had a tremendous impact on their lives," said M. Eric Johnson, Ralph Owen Dean and Bruce D. Henderson Professor of Strategy. "Over the past four months of 50th anniversary celebrations around the globe, many alumni remembered him fondly as a caring mentor."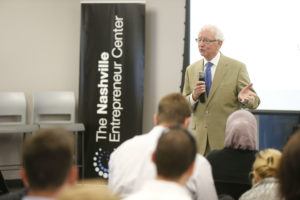 Germain earned a Bachelor of Science degree in Commerce from St. Edward's University, an MBA from Texas Tech University, and an Ph.D. in Business Administration from Louisiana State University. He taught at Texas Tech and Oklahoma State and worked for Arthur Anderson & Co. before arriving at Vanderbilt in 1977. He earned several accolades in his early career, including listings in Who's Who in American Education, Outstanding Young Men of America, and Outstanding Educators in America.
His research in Accounting spanned a variety of topics over the years, ranging from cost accounting to hospital planning, technology, and environmental cost management. Germain served on the editorial boards of prominent journals like The Accounting Review and consulted with firms large and small around the world. He chaired numerous committees for the American Accounting Association and National Association of Accountants, among others.
Germain's involvement with Vanderbilt was extensive as well. He served as the Interim Dean of the Owen School from 1986 to 1987. He also served on and chaired many school committees on technology, helping guide the school's approach to incorporating computers into education.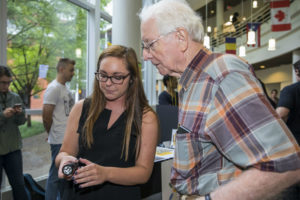 The passion and energy that Germain brought to entrepreneurship transformed Owen's approach to the space. He led a push to create an entrepreneurship center at Owen for four years, creating conferences and developing a program to provide MBA students hands-on experience in the private capital market. He formed an alliance with Huntsville, Alabama-based technology incubator BizTech. He also helped start the Nashville Capital Network.
"He was vital in growing entrepreneurship off campus and in Nashville, eventually becoming one of the most well-known and respected members of the Nashville startup community," said Michael Bryant, Director of the Center for Entrepreneurship at Owen. "His presence as a startup advisor and as an excellent person will be sorely missed."
Germain, whose email signature included the phrase "Never Give Up!", was gregarious and charitable with his time, always willing to listen, provide suggestions to challenges, and offer words of encouragement for anyone who sought them.
"We can all still learn from Germain," said Paul Chaney, E. Bronson Ingram Professor of Accounting. "His enthusiasm for investigating new ideas is contagious."
Germain was married to Elinor O'Brien Boer, also a Professor of Accounting at Vanderbilt University, who passed away in 2004. They are survived by son Robert, daughter Kathleen, and four grandchildren.
Please visit our photo gallery to see more pictures of Germain.