The design and innovation competition was designed to motivate engagement in healthy behavior via a digital app
By Kara Sherrer
Earlier this year, the Yale Center for Customer Insights (YCCI) partnered with PepsiCo on a new design and innovation competition that explored innovative new ways of motivating consumers to engage in healthier behaviors using a new digital app. Students from business schools across the country, including the Owen Graduate School of Management, were invited to create a concept that delivers a fun and engaging experience through a digital platform which results in users engaging in healthier behavior.
While the health and wellness trend has contributed to the creation of thousands of apps, many people stop using the apps soon after downloading them, and the majority fail to maintain healthy habits. Teams were tasked with devising an app that would help mitigate some of these issues and encourage users to stay engaged with the app.
A total of 26 student teams from 12 business schools across the country registered and submitted their ideas to YCCI. The Owen teammates were Franklin Popek, Dominic Savoldelli, Benjamin Vertz, and Jack Cogan (all MBA'22). They had 2 weeks to create initial abstract submission, and another 2 weeks to their final multi-media presentation.
"I have participated in numerous case competitions in my academic career, but this one was particularly fun because it sat at the intersection of marketing, technology, behavioral science, and wellness — and allowed us to explore and interweave research in motivation psychology, emerging technology, and wellness trends," Popek said.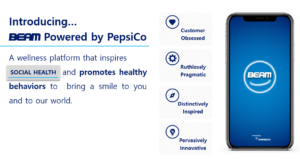 The final deliverable consisted of a 13-minute presentation, a 2-minute campaign video, and a 10-minute Q&A session. In it, the team introduced their wellness platform, which they called "BEAM powered by PepsiCo," to drive initial uptake and ongoing engagement and interest to achieve health such as nutrition, hydration, sleep, and sleep.
"I could not have been more excited to participate in the Pepsi Mobile App Challenge," Vertz said. "The prompt of this case competition aligned with my desire to build 'consumer-first' platforms that excite people and make it easier for them to engage with their health."
After academic and industry experts judged the initial abstract submissions, they selected finalists to present to YCCI Executive Director, Jennie Liu; Yale Executive Fellow and former Chief Marketing Officer of Spotify, Seth Farbman; as well as PepsiCo executives Tristin Brisbois, Director of API Center; and Antonio Tataranni, Chief Medical Officer.
The Owen MBA team tied for first place with the team from The University of Chicago Booth School of Business and was awarded $7,000 in prize money. They were also invited to showcase their work and spark discussion among a broader group of PepsiCo associates. "The Pepsi Mobile App Challenge provided me access to world-class marketers at PepsiCo, a deeper understanding of consumer health and behavioral science, and experience developing a solution to help overcome a real-world global challenge," Vertz said.
The students say that being able to work with a well-known brand such as Pepsico brought added value to the experience. "The opportunity to work within the context of an iconic American portfolio of brands and ever-changing customer base enabled us to flex our thinking across strategy, innovation, and brand management," Popek said.
"It was an honor to represent Vanderbilt's Owen Graduate School of Management, collaborate with my classmates, and receive recognition for our concept from a prestigious global brand," Vertz added.