MBA students partner with local nonprofits for year-long service as Board Fellows
By Lacie Blankenship
The 2022 Owen Board Fellows program kicked off in early January when 33 first-year MBA students began their fellowship year. Board Fellows, one of the many opportunities for social impact at Vanderbilt Business, is a program rooted in partnership with the Turner Family Center for Social Ventures (TFC) and 100% Owen, the Vanderbilt Business community service and philanthropy club.
The Owen Board Fellows program matches local nonprofits with MBA students to serve as non-voting board members for a year, allowing the students to engage meaningfully with the community and strengthen leadership skills.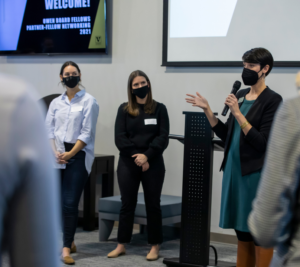 "Owen Board Fellows connects MBA students with opportunities for community leadership and allows them to learn about nonprofit governance and leadership by giving them hands-on experience," says Kathleen Fuchs Hritz, Assistant Director, TFC, and staff lead for the program.
Hritz praises Owen's nonprofit partners for their integral involvement with Board Fellows. This year, 31 nonprofits (listed below) are serving as Owen Board Fellow Partners for the cohort running from January 2022 to December 2022.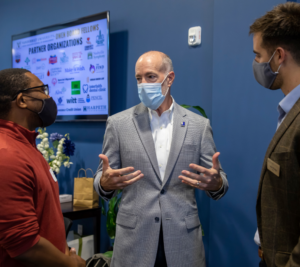 Students are selected as Board Fellows based on an application and interview process that concludes in November with matches announced in December of their first year. Selected Board Fellows for the current cohort were invited to an in-person networking event in December where they had the opportunity to meet other participants and leaders from the nonprofit partners.
"Students come to business school to grow their abilities as business leaders; Board Fellows is an opportunity for them to have a commensurate experience with nonprofit and community leadership," says Hritz. "This program allows students to transition from direct service/volunteerism to board service, leveraging their business skills at a strategic level for nonprofits."