In this edition of People of Vanderbilt, we spotlight MBA student Ford Duncan
By Arial Starks
Vanderbilt Business is known across the globe for its high caliber of students, faculty, and staff. In this edition of People of Vanderbilt, we spotlight MBA student Ford Duncan, who shares a little about himself.
What's your secret talent?
My secret talent is gardening.
Who or what empowers you at Vanderbilt?
My impressive and talented teachers. I wish the program was longer and I had the time to learn more from them.
What are 1 or 2 experiences that have really shaped your time here at Vanderbilt?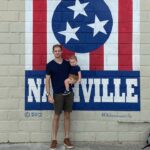 The Owen Board Fellows program opened my eyes to the nuances of non-profit governance, executive board structure and roles, and intricate community network in Nashville.
What's your favorite way to connect with the Vanderbilt community?
In person outdoors, or while working on a project towards a common goal.
What's something you've learned about yourself during your time at Vanderbilt?
My time at Owen has reignited my passion for learning and embracing challenging academic pursuits.
Are you in a leadership role associated with Vanderbilt? If so, name the organization and title.
I am President of the Owen Armed Forces Club and a (Former) Community Resource Center Owen Board Fellow.