In this edition of People of Vanderbilt, we spotlight Master of Marketing student Claire Monterroyo on her time at Vanderbilt Business
By Arial Starks
Vanderbilt Business is known across the globe for its high caliber of students, faculty, and staff. In this edition of People of Vanderbilt, we spotlight Master of Marketing student Claire Monterroyo, who shares a little about herself.
What's your secret talent?
I can recognize every One Direction member by just their hands.
Who or what empowers you at Vanderbilt?
My classmates in the Master of Marketing program empower me and push me to be my best! I love how intelligent and hardworking everyone is.
What are 1 or 2 experiences that have really shaped your time here at Vanderbilt?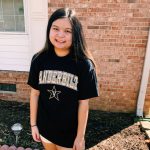 Mod 0 was a hard but necessary bonding time! Getting to work on casing and educational material right away with my class shaped how I went into orientation and Mod 1.
What's your favorite way to connect with the Vanderbilt community?
I like attending lunch and learns, employer information sessions, etc. because there's always something to learn and people to meet. There's usually good food, too!
What's something you've learned about yourself during your time at Vanderbilt?

I am more capable and worthy than I ever thought. I can do hard things.
Looking back on your time at Vanderbilt, what is one of your favorite memories, activities, or rituals?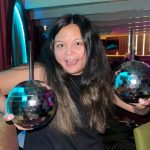 My favorite memory is eating at SATCO between classes!
Looking forward, what are you most excited about this year?
I heard there's champagne and strawberries at graduation — I'm looking forward to that!
Are you in a leadership role in association with Vanderbilt? If so, name the organization and title.
I currently serve as a Master of Marketing Ambassador and I'm on the MMark Newsletter Committee!