Business Management vs. Business Administration Certificate
29 September, 2021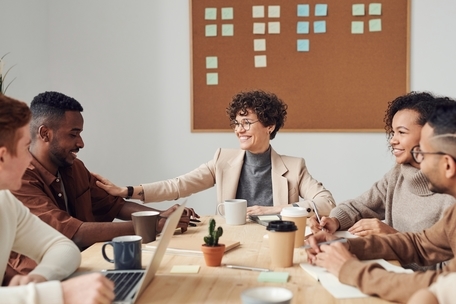 The world of work is changing, and upskilling is the way to adapt. In looking at the jobs that will be lost to and created by AI, robotics, and automation, McKinsey & Company determined that developing certain foundational skills can improve a person's chance of employment, high income, and job satisfaction. The company's findings suggest professionals can make themselves invaluable to a business by:
Bringing value that automation and AI can't provide.
Working in an increasingly digital environment.
Continuously adapting to the myriad technological, societal, and environmental forces having an increased impact on business operations.
People need to acquire these skills quickly. The COVID-19 pandemic showed how rapidly the business landscape can shift, and employees need ways of upskilling that are just as expeditious but even more efficient. Today's professionals have options that are more cost-efficient, less time-intensive, and prioritize the specific skills they wish to develop.
Consider how a certificate in business management can more efficiently prepare you for the future of business.
---
Business Management Certificates vs. Business Administration Certificates: Quick Facts
Business Management Certificate
Business Administration Certificate
Cost
Less than $5,000
$5,000 to $10,000
Completion Time
Less than one year
Less than one year
Requirements

Often accepts applicants regardless of prior education or experience
An associate's degree, bachelor's degree or prior work experience may be helpful but are not always required

A bachelor's degree or relevant work experience
Curriculum and Learning Outcomes

Prepares students to take on managerial or leadership roles
Prioritizes leadership and soft skill development

Prepares students for an MBA program
Prioritizes business strategy and analytics
---
About Business Management Certificates
You need soft skills to grow from a talented technical professional to an impactful leader. Business management certificates are an attractive career development option that allow you to focus on specific skills like these that you want to develop. The education is evergreen and appropriate for a wide variety of applications, including promotion to management or leadership positions. It is also a quick, flexible educational option that allows you to study while working full-time.
A good program will help you develop a distinctive leadership style appropriate for your profession and career aspirations. You'll evaluate your communication and listening skills, and consider what talents are needed to make your teams feel valued. Such an honest assessment of your current strengths and weaknesses allows you to devise ways for improvement.
A business management certificate program can also help you master practical business concepts, such as risk management, evaluating financial performance, and strategic decision-making. You'll combine your soft-skill development with your business knowledge to become a robust leader who is adept at addressing the needs of their business.
---
About Business Administration Certificates
A business administration certificate focuses on fundamentals like accounting, finance, and business analytics. Such certificate programs, when compared to business management certificate programs, often lack the strong emphasis on management, leadership, and soft skill development. They also differ in terms of application requirements; business management certificate programs are generally open to anyone regardless of prior work experience, whereas business administration certificate programs often ask applicants to have spent at least a year in a business setting.
---
The Benefits of a Certification in Business Management
A business management certificate is a great option for professionals who want to advance to a management-level position but may not have the leadership experience or business background such a role requires. With an emphasis on developing the soft skills that are vital for a leader and that can help one navigate the rapid shifts in business, a business management certificate curriculum helps engineers, architects, marketers, software developers, and more boost their resumes and acquire higher-wage positions.
According to the U.S. Bureau of Labor Statistics, management occupations are expected to grow at a faster-than-average rate, with a forecasted 505,000 new jobs added between 2019 and 2029, as established businesses rapidly expand and new ones form each year. The median salary for all management occupations was $109,760 in May 2020 — the highest wage of all major occupational groups.
Categories in which a business management certificate can improve your employment prospects include:
Advertising, promotions, and marketing management (median salary $141,490)
Architectural and engineering management (median salary: $149,530)
Computer and information systems management (median salary: $151,150)
Source: BLS
Additionally, the streamlined nature of a business management certificate program allows you to quickly advance your career in a specialized field without a severe financial burden. A business management certificate program lasts a year or less and can cost less than $5,000. Some provide even more savings; the Vanderbilt Owen Graduate School of Management offers a discount for students who register for the full suite of business management certificate courses at once.
Although the programs are shorter and more cost-efficient, a business management certificate brings the same prestige of a more expensive, more time-intensive alternative. At Vanderbilt, graduates earn an official certificate and continuing education credits from an accredited institution, which can boost your resume and fulfill requirements for acceptance into other postsecondary programs.
---
About the Vanderbilt Online Business Management Certificate
Our online business management certificate program has been designed to equip current and aspiring leaders with practical management skills they can use in their jobs immediately, as well as a framework for refining their personal leadership styles.
By completing the program, you will build a foundation in operations, marketing, finance, accounting, analysis, leadership, and more. You'll hone your soft skills and learn best practices for managing teams, your supervisors, and yourself.
We also work with you to identify your existing strengths, cultivate them, and pitch them — so you can become more confident in your skills and be a stronger advocate for your ideas.
---
Request

Information
To learn more about the Vanderbilt Business Management Certificate, contact a career advisor at 844-825-9663 or fill out the form below to download a free brochure.