What Can You Do with a Certificate in Business Management?
8 April, 2021
As the saying goes, people don't quit jobs, they quit bosses. On the other hand, a highly effective leader can inspire and grow teams that spur innovation and overcome just about any challenge collaboratively.
So, what makes an effective leader, and how do you build those qualities in yourself?
There are a few common themes that come up when people talk about effective leadership. In addition to a high degree of business acumen, we often hear things like exceptional communication skills, creative problem solving, and conflict resolution when discussing the leaders who made the greatest impact on our lives.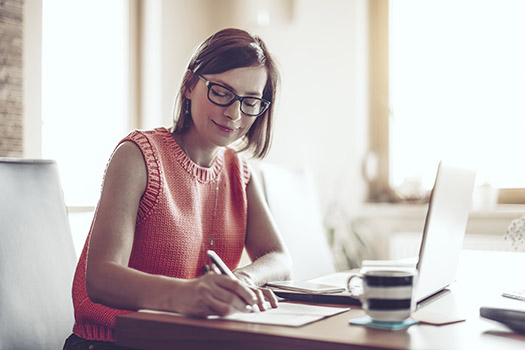 There are a number of ways you can develop those softer skills, but you should be ready to step out of your comfort zone — for example, you could pursue more opportunities to present at work to help build your communication and persuasion skills. We also recommend exploring professional development opportunities through your employer and developing skills outside of your immediate job via collaboration with other departments.
Business education also provides a number of avenues for developing your skills, with a range of degree and graduate certificate options. This is a great path if you want to learn proven strategies for effective leadership and practice them in a comparatively low-stakes environment.
Here, we'll focus on the outcomes and benefits of our online business management certificate, which is designed for current and aspiring business leaders interested in pursuing roles ranging from manager-level to the C-Suite.
---
What Can You Do with a Business Management Certificate?
Earning a business management certificate is a great way to upskill as a leader, you'll be able to apply what you learn quickly.
Certificate programs offer a more focused path of study, which means you can pick a program based on the specific skills you want to develop. In our business management certificate program, for example, you'll complete coursework in business fundamentals like finance and accounting while gaining tools to be a more effective communicator who can lead change within your organization.
Data from Labor Insight, a career platform by Burning Glass, shows that demand for business management and operations credentials has grown steadily in the last decade. In 2011, there were about 147,000 U.S. job postings requesting some kind of business management certification, and by 2020, this nearly doubled to 294,000. The data also shows that demand persists across a wide variety of industries, from insurance providers to scientific and technical services companies.
One of the main benefits of developing business skills is their transferability. These evergreen skills will be valuable throughout your career, whether you're a non-manager, an employee, or pursuing executive positions. PayScale also shows a wide range of career opportunities at all levels of management.
The table below highlights several of the top jobs with a business management certificate, based on the number of individuals in the role who have reported earning one.
---
Careers with a Certificate in Business Management
Job Title
Average Business Certificate Salary*
Cost per course
$995
Total courses
4
Total fees
No additional fees
Textbooks
No textbooks required
Total program cost with bundle discount*

$3,980

$3,795
*The average salary data reflect base salary for individuals in these roles who have earned a business management certificate and do not include additional compensation, such as annual bonuses. The data is based on more than 26,000 professionals reporting from the U.S., and was last updated March 17, 2021.
Source: PayScale
---
Business Management Program Outcomes
One of the quickest ways to see if a program is aligned with your goals is to review the learning outcomes. We've designed our online business management certificate around building your aptitude in:
Driving the adoption of great ideas
Engaging in and influencing strategic business decisions
Evaluating a firm's financial performance
Designing and leading successful projects
Managing risk effectively
Practicing highly effective self and team leadership techniques
Because we focus a lot on developing soft skills, our program includes activities that will challenge you to self-reflect and consider what kind of leader you want to be, as well as how you want your colleagues to perceive you. You'll learn about and practice proven strategies for effective leadership and complete practical coursework to fine-tune your skills. Our program is an excellent fit for professionals who want to develop a distinctive leadership style and further develop their knowledge of key business functions.
---
Is a Business Management Certificate Worth It?
The value you get out of earning a business management certificate depends on a number of factors, like where you are in your career now and your future goals. If you want to hone specific skills like communication or further refine your leadership style, a business management certificate will provide you with tools you can use right away.
It's important to take some time and establish clear goals that identify what you want to achieve by earning a certificate. For example, if you're looking to advance within your organization, think about what skills you would need to be promoted. These are the skills and competencies you should look for in the program's curriculum and learning objectives.
Then think about the value of those skills to your career and consider how you can really take advantage of them. If you don't have much management experience yet, you could pursue opportunities within professional mentoring programs and apply what you learn to mentorship. On the other hand, if you're already in management, you'll be able to leverage what you learn to improve your team's performance, inspire their creativity, and help them grow as business professionals.
---
About the Vanderbilt Business Management Certificate
Our business management certificate program has been designed to equip current and aspiring leaders with practical management skills they can use in their jobs immediately, as well as a framework for refining their personal leadership styles.
By completing the program, you will build a foundation in operations, marketing, finance, accounting, analysis, leadership, and more. You'll hone your soft skills and learn best practices for managing teams, your supervisors, and yourself.
We also work with you to identify your existing strengths, cultivate them, and pitch them — so you can become more confident in your skills and be a stronger advocate for your ideas.
Considering a business degree? Find more information about our Master of Business Administration here.
---
Request

Information
To learn more about the Vanderbilt Business Management Certificate, contact a career advisor at 844.825.9663 or fill out the form below to download a free brochure.