Employment trends from the Great Recession until now
By Rob Simbeck
Like the stock market and the world economy, the marketplace for MBA talent is in constant flux. For Vanderbilt and its students, preparing for the future means keeping a constant eye on hiring trends, technological developments and geographical shifts, among a dozen other parameters. With employment figures in for the Class of 2015, Vanderbilt Business decided to look at job placement and trends in the years before and after the 2008 financial crisis.
This year's economic environment is still evolving, but Vanderbilt's 2015 full-time MBA graduates entered a business world viewed as stronger than any since before the recession. In fact, Bloomberg Business Week called it "the best job market in a decade."
One sign of the rebound, according to Emily Anderson, MBA'99, director of Owen's Career Management Center, was visible in the internships that are such a key part of the MBA program at Vanderbilt.
A full 100 percent of the Class of 2015 looking for internships had offers during the summer of 2014. Those impressive figures correlate to employment stats. "In 2010, less than 20 percent of internships turned into full-time job offers," Anderson says. "In 2015, it was more than 50 percent."
Where they're going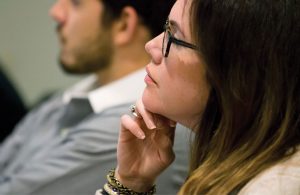 Job offers for the Class of 2015 reveal interesting shifts and the results of where grads are accepting employment.
Individual companies help drive those geographical trends, and the most obvious takeaways in the recent list of top-hiring companies for Owen grads are the No. 1 hiring position of Amazon and the presence of firms like AT&T, Citi, Deloitte, General Electric, Hewlett-Packard, and Johnson & Johnson as the ultimate destinations of many Owen grads.
"We are impacted by individual company hiring needs and expansion," Anderson says. "The most obvious example for Owen is Amazon's expansion. Amazon has multiple MBA-level management development programs and is able to provide a lot of geographic flexibility for the students. They certainly have corporate functions in Seattle, but other opportunities throughout the U.S. as well because of their extensive distribution footprint."
PLACEMENT BY INDUSTRY (2007: blue | 2011: gold | 2015: white)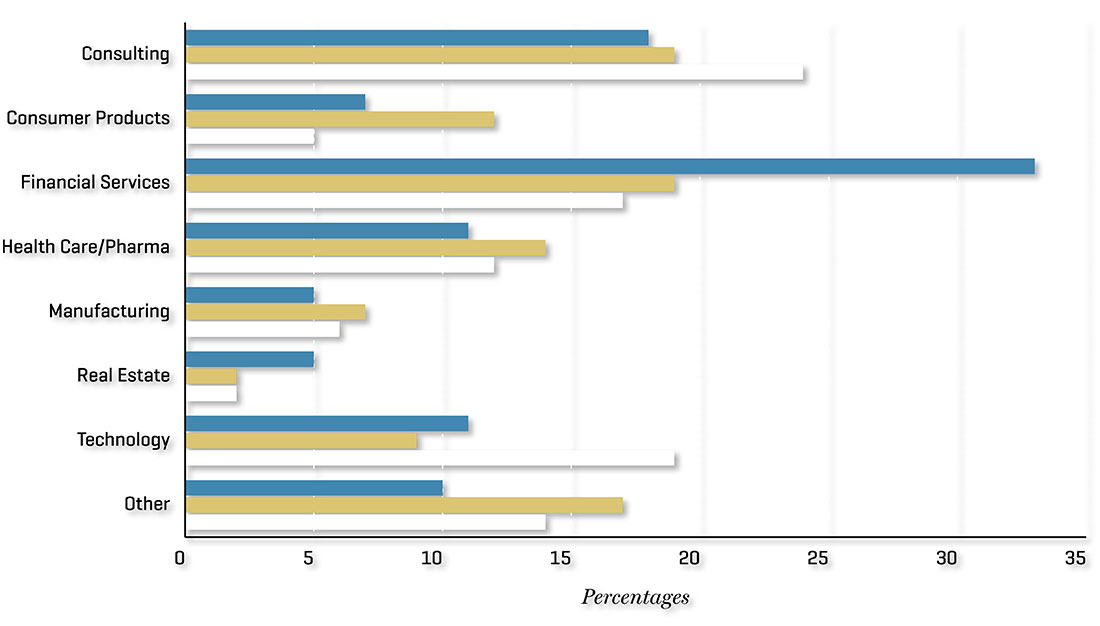 Top hiring companies
Let's begin with geography and a growing shift westward for Owen grads. Nashville remains the top city for Vanderbilt MBAs (as is typical for any national MBA program, the largest alumni base is always in its own region). New York and Atlanta have jockeyed for second place as employment destinations throughout the past decade, and San Francisco has become a steady top-five presence. Now with Los Angeles and Seattle both making the top 10, the pull in that direction is obvious.
TOP DESTINATIONS FOR CLASS OF 2015 GRADUATES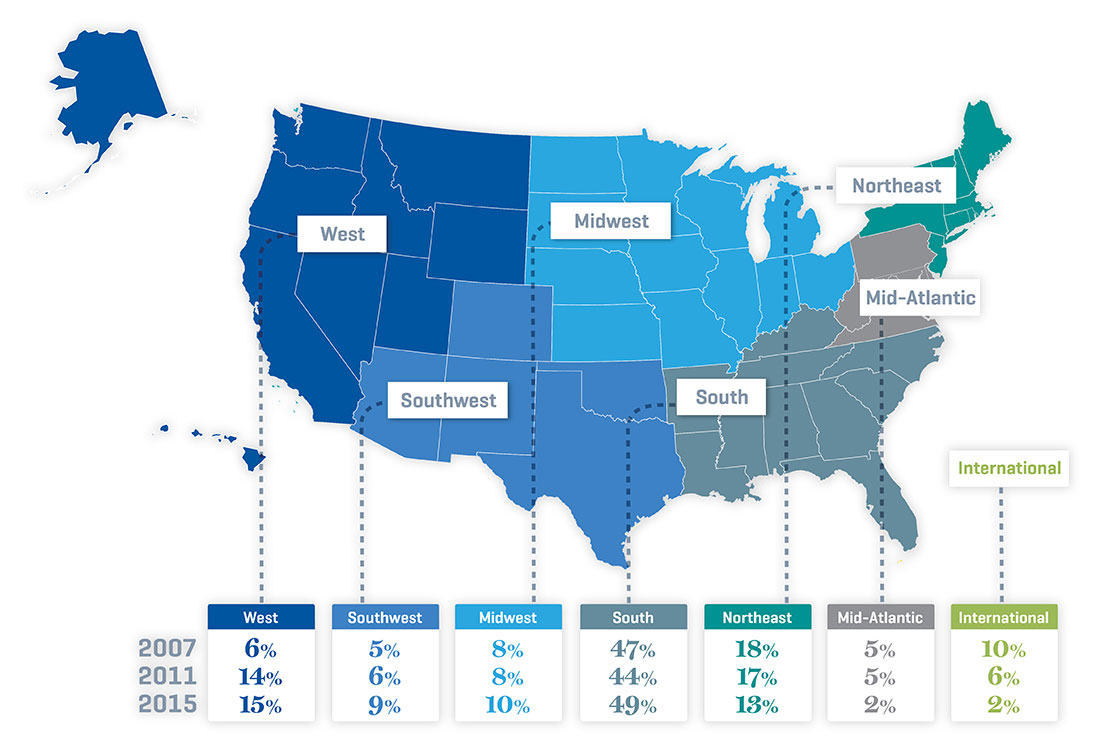 TOP HIRING COMPANIES IN ORDER OF NUMBER OF GRADS HIRED
2007
Bank of America: 6
Citigroup: 6
Deloitte: 6
Capgemini: 3
General Electric: 3
Harrah's Entertainment: 3
Johnson & Johnson: 3
PricewaterhouseCoopers LLP: 3
2015
Amazon: 12
Deloitte: 9
AT&T: 4
Citi: 4
The North Highland Company: 4
American Airlines: 3
General Electric: 3
Hewlett-Packard (HP): 3
Johnson & Johnson: 3
KMPG Consulting: 3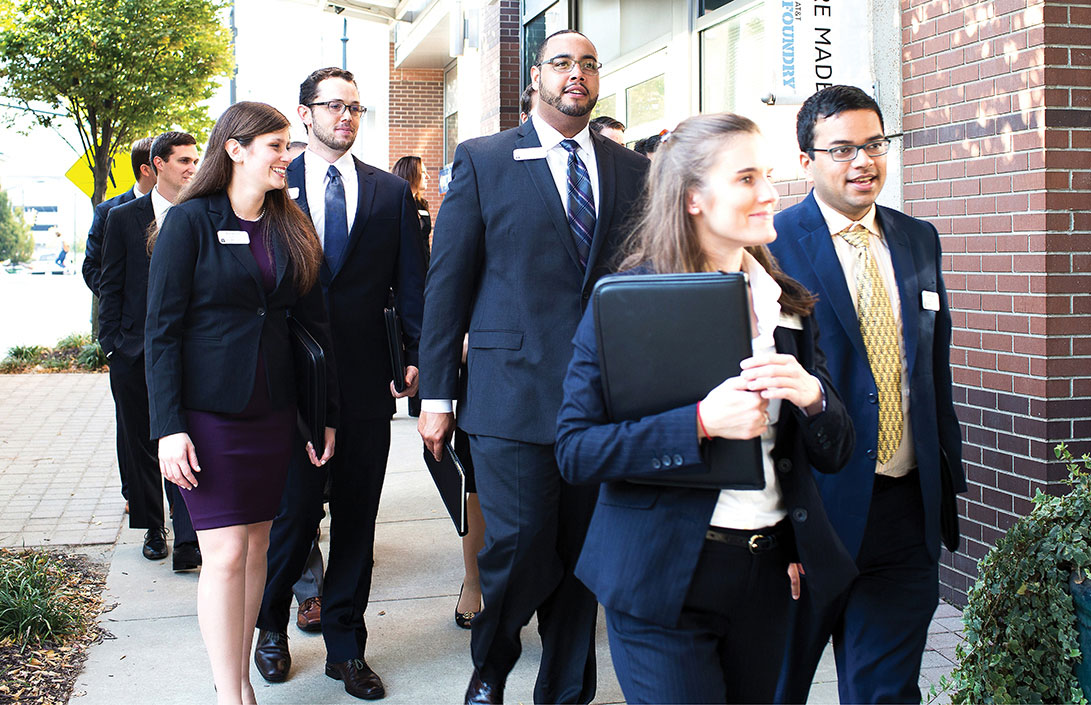 Trends in operations and tech
The Amazon connection figures prominently in the visibility of operations management as a job function.
"Employment in operations has increased primarily because we are a major partner in recruiting with Amazon and they have hired a lot of students over the past three years—mostly in operations roles," Anderson says. "There are a few other firms as well, especially in technology, that have increased hiring, but the majority of the impact comes from Amazon. They became our largest employer three years ago and will be again this year."
Technology is, of course, a prime driver of economic growth and change, and it has had an increasing role in employment decisions. The field saw dramatic change over the past decade, with employment for graduates falling by half between 2007 and 2009, and then climbing—first slowly, then dramatically—between 2011 and 2015.
"The growth and excitement in technology has certainly led to increased interest in the tech sector, and we see more of our students heading to tech hubs in Seattle and San Francisco," says Owen Dean M. Eric Johnson. "Our annual tech trek to visit companies keeps growing, with this year's trek being the biggest—both in terms of the number of companies visited and students participating."
Consulting blossoms
Gaining new skills was key to the career plans of second-year MBA student John Von Euw. A Massachusetts native who taught in New Orleans with Teach for America, Von Euw moved into administration and then decided he needed to expand his quantitative and technical skills.
"Once I got to Owen," he says, "I decided to pivot away from education and focus my job search on strategy consulting in the private sector. I think what really motivated me was the opportunity to work for a consulting firm on projects in a number of different industries."
Consulting, in fact, has seen a strong uptick among Owen grads after a downturn during the recession.
"Economic downturns impact consulting first," Anderson says. "Companies shift discretionary spending away from projects they would normally use consultants for—like big software implementations. Consulting hiring out of business schools decreases."
The bounce back was just as dramatic. By 2015, a quarter of all Vanderbilt MBAs were going into the consulting field.
"Coming out of the recession," Anderson says, "we have changes in the regulatory environment that impact how companies do their business and may cause them to seek outside help to understand and react. I believe the Affordable Care Act in health care and the financial reform bill did impact and increase hiring for consulting firms."
Health expectations
With an aging population with increasing medical needs, health care is expected to be the fastest-growing industry in the next decade. Owen's expertise in health care management makes its students attractive to established firms and startups alike.
"The rise and growth of new firms in the industry has also increased hiring," Anderson says. "These are not hospitals hiring, but firms like McKesson, DaVita, Cardinal Health and Medtronic, which provide products and services to the health care industry."
Health care hiring at Owen spiked as the recession hit—perhaps because health care is seen as recession-resistant—going from 8 percent in 2007 to 19 the following year. It dropped again dramatically in 2012 and 2013, then rose in the past two years.
Attraction of finance
"We still have many students heading into finance and accounting," Johnson says. "Wall Street beckons many students, and we had a solid group of first-year students visiting the banks this fall. Even so, fewer are focused on traditional Wall Street firms. Rather, we see more students taking finance roles in technology and health care."
In parsing the numbers since 2007, Anderson adds, "I think the core number of those interested in investment banking was stable. In my observation, student career aspirations did not change that dramatically due to recession. Students continued to seek MBAs and use the degree to redirect their careers in line with their interests.
"Financial services recruiting decreased during the last downturn," she says. "That was due to slower recruiting but was also impacted by graduates deciding to look elsewhere." Those students who were marginally interested or for whom finance was a second choice chose other industries and functions, she says. "I believe Owen, like most MBA programs, has seen those students gravitating to technology and consulting."
What's ahead?
Like the class before them, the Class of 2016 saw a full 100 percent of those seeking internships accept one. Approximately half of those students returned to campus in August having received full-time job offers from their internship companies. By graduation, that number had soared. (In 2015, nearly 90 percent of the graduating class had received job offers.) Current trends in location, hiring companies, metro areas and industries are expected to continue for the Class of 2016.