State-of-the-art meeting rooms, comfortable open spaces to debut in the fall
By Nathaniel Luce
Wireless conference technology? Check. New study rooms, including a conference room that can seat 12? Check. Updated communal areas, featuring a gas-lit fireplace on the first floor for fireside chats with distinguished guests? Check.
Books? That's a different story.
After opening its doors 35 years ago, the Walker Management Library at Vanderbilt Business is getting its most significant facelift to date, thanks in large part to a $1.4 million donation by the estate of Thomas Walker. Designed by EOA Architects, built by Burns Construction and overseen by Chief Business Officer Caitlin Mullaney (MBA '13), and Library Director Hilary Craiglow, the renovation will dramatically change the look and feel of this seminal Owen institution, which opened alongside Management Hall in 1982.
"The students really value the space, especially in this building, because we are such a close-knit community," says Craiglow. "The ability for students to gather study, learn, and eat, here helps strengthen that community."
Preliminary work commenced last month, with major demolition beginning in the first week of May, after exams conclude. Work will continue throughout the summer, with a tentative re-open date of August 9.
Students arriving and returning in the fall will enjoy an entirely different library experience, one that artfully blends variety, form, and function.
"Everyone will find a study configuration that they like," says Craiglow.
The first floor boasts a communal fireplace area, dedicated to Chief Admissions Officer Tami Fassinger, with flexible seating arrangements that can accommodate 15 to 40 people. Cabana-style bench seating for groups, café-style elevated chairs, library tables, and lounge chairs accommodate individuals and small groups.
The current bank of 10 computers with specialized data and software will remain, and so will the researcher specialists to help students navigate different databases. The copy area will be upgraded to a copy room, with multifunction machines to scan, fax, print, copy, and collate.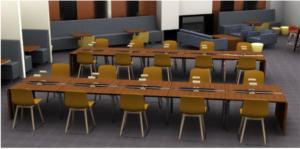 A rendering of the first floor open space, with cabana-style seating, tables, and a fireplace
On the second floor, the variety of study options expands: hidden corners with couches and lounge chairs, study carrels, banquette-style arrangements, and cubbies occupy the open areas. The bathrooms are getting an upgrade as well. With full-length mirrors, hooks, and stools, they can serve as fully functional changing rooms before and after interviews.
The study rooms, accessible by sliding glass doors, will be larger and lighter, headlined by a conference-style room that can seat 12. Creston's new Mercury line of wireless conference provides improved connectivity to 55-inch monitors without the hassle of endless RGB and HTML cords.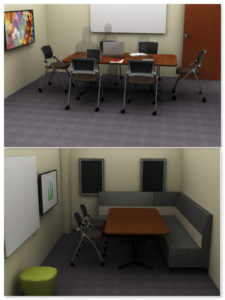 The study rooms will feature 55-inch monitors and a glass whiteboards
The library will even sound different. A white noise system on both floors, along with sound-mitigating fabrics, space reconfiguration, and extra insulation, will mitigate the noise impact from conversations in common areas and study rooms. The ceiling will be lowered in particular areas to promote quieter discourse, and the study room hallways will be narrowed to discourage conversations in the high-traffic areas.
"I am particularly keen to provide students with space for deep thought," says Craiglow, "especially now when they're so saturated with media. This is far more important now than 35 years ago."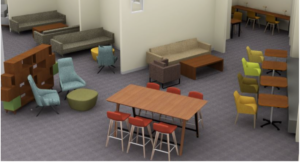 The second floor open area provides a variety of study options for individuals and groups
One thing that won't be returning to the library are the majority of the books, but with supplementary open space and the library's extensive collection of digital assets and databases, the change is truly addition by subtraction. A smaller collection of management literature, popular business books and magazines, and practical, 'how-to' guides will remain, along with all required textbooks for the MBA program. The library will also continue to lend equipment, like wireless presenters and financial calculators.
"As a librarian, sure, I am going to miss the books! The feeling you get from book-filled shelves is unmistakable and very satisfying," says Craiglow. "But we've been making the shift to digital for the last 20 years, and the library at Owen will no longer be a warehouse for a historical collection of printed material."
The renovations will also improve accessibility — thanks to new after-hours security measures for the terminals and other assets, the library space will be open 24-7 after the renovations are complete.
Since 1982, the Walker Management Library has served many purposes for students – quiet, open sanctuaries for study; smaller areas to congregate and collaborate, and always a center of research, for librarians to help students become better information consumers, and find data for assignments, independent study, pitches, and job searches. The updates will improve and preserve all of these functions for many generations of Owen students to come.
"This major renovation will transform the library into a hub of discovery and collaboration," says M. Eric Johnson, Dean of Vanderbilt Owen Graduate School of Management. "As a focal place for gatherings big and small, the library will take on a new role within the Owen community. Additionally, the expanded group meeting space and conference rooms will support growing needs for team projects and entrepreneurship."
"We're proud of being a service that students consistently rate high year over year," says Craiglow. "We'll now have a space to match."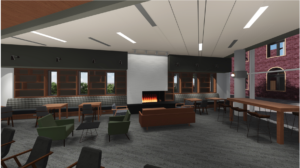 The fireplace area accomodates flexible seating arrangements for large or intimate gatherings
Contact Person: Nate Luce Director of Business News and Communications
Contact Phone: 615.322.3469
Contact Email: nate.luce@owen.vanderbilt.edu