Master of Marketing students work with event marketing firm to conduct an impact study of Nashville's longest-running festival
By Kara Sherrer
When Stephanie Verheyen (MMark'17) volunteered to help with Nashville Oktoberfest last year, she hoped to get some hands-on event marketing experience and maybe a free ticket to the festival. Little did she know the opportunity would eventually turn into her mentoring the next class of Master of Marketing students through a six-month project.
"Since I was born in Munich originally and I'm very close with my German heritage, (volunteering at Oktoberfest) seemed like an awesome opportunity," she said.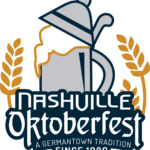 She helped with the VIP check-in for the event in 2016 and got to know Director of Marketing Adam Bowie in the process. Bowie's company, Rush Hour Marketing Technology, handles event marketing and ticketing for Nashville Oktoberfest, the second-largest Oktoberfest celebration in the United States.
The next year, Verheyen reached out to Bowie to see if he needed more help with the 2017 Oktoberfest. Bowie pitched Verheyen on a more in-depth project: running an economic impact study. The event was forecasted to draw more than 300,000 attendees, but festival organizers wanted to know exactly how much money it contributes to Nashville's economy.
Getting the MMarks Involved
A recent alum, Verheyen knew how much she appreciated getting hands-on experience during her time at the Master of Marketing program. She proposed the Oktoberfest project to the newest class of MMark students, hoping to get three or four to volunteer.
"One of the things that was really important to me as an MMark…I wanted to make sure that my whole time spent at Owen, I wasn't just going to class," she said. "I was looking for every possible opportunity to do (outside projects) at the same time…to prove that I willing to go above and beyond."
Eight of the MMarks students signed up immediately: Haley Jo Kimmen, Kirstin Johnson, Olivia Rovelli, Olivia Cohn-White, Sarah Bell, Laura Lee Singer, Katie Pisarek, and Lauren Smith.
"(Stephanie) came and spoke to us, and I texted her right after: 'Sign me up. I want to do this. Oktoberfest sounds right up my alley,'" recalls Rovelli, who is considering a career in event marketing.
With Verheyen acting as a group coordinator, the MMark team ran the study from start to finish, from authoring the survey questions to conducting a mid-August test run at the Italian Lights Festival.
Improving the Survey
Italian Lights gave the team a chance to experiment with the study conditions. Originally, they administered test surveys on clipboards, and had to approach festivalgoers directly since they didn't have their own booth. They also wore staff t-shirts the first day, which became problematic when attendees turned to them for festival information. The team used their Italian Lights experiences to refine their approach for Oktoberfest.
"Doing an economic impact study of something that happens once a year; you can't miss your mark the first time around," Kimmen said.
For Oktoberfest, he team streamlined the survey, re-wording confusing questions, and loaded the form on iPads. They secured their own booth with a Vanderbilt Business banner and wore Vanderbilt shirts to distinguish themselves from festival staff. Once festivalgoers saw the Vanderbilt name, most were more than happy to help out the students with their survey project.
"We had quite a few people interested in Vanderbilt or Owen. We got to give them our own spiel and be advocates for the school, not on purpose. But it was a good way to be the face of Vanderbilt in a positive way," Johnson said.
Another change proved critical to survey's success: giving away a free Oktoberfest tasting glass in exchange for filling out the form. Attendees were so eager to take the survey, the team ran out of glasses after less than two hours on Saturday. They called a volunteer in the VIP tent and asked her to bring more.
"I asked, 'Can we just have another box?'…She rolls up with this massive golf cart, (tasting) glasses everywhere," Rovelli said. "We went through all of them." All in all, the team gathered almost 350 survey responses, nearly doubling their responses from Italian Lights.
Looking Ahead to Next Steps
Now that the festival is over, the team plans on sending out a follow-up survey via email, asking attendees how much they spent on food, drinks, and shopping. Then, they'll analyze the data from the two surveys and give a detailed report to Bowie and the Oktoberfest staff. The festival also plans to present the data to the city of Nashville to support their permit requests for more event space.
"In prior years, they've had difficulty getting space. This is the first year they expanded outside of Germantown," Johnson said. "Giving them this detailed data and background info (will) prove Oktoberfest is worth it and that they deserve the space…because it's bringing in money and visitors to the city."
Even as they're helping the festival, the MMark students are gaining real world experience they can use as talking points during the recruiting process.
"I can definitely use (the project) as a story to tell in interviews, talking about practicing skills, collecting data, understanding consumer data, and coming to a conclusion based on that information," Kimmen said. "I think you can develop surveys and collect all this data, but if you can't come to a conclusion and have an actionable item (based on the data)…you didn't really learn a whole lot."
"We learn about it in all of our classes, but (it's different) to really go out there on the field and deliver these surveys and have them respond to them and interact with us," Rovelli adds. "You get a firsthand appreciation for the world of marketing and how customers think and act."