Associate Director of Admissions Rob Schickler shares his best tips for the MBA application essay ahead of the Round 1 deadline on October 19
By Rob Schickler, Associate Director of Admissions
Writing the essay is often one of the most dreaded — but most important — parts of the business school application process. Instead of seeing it as another hoop to jump through, think of it as an opportunity to differentiate yourself from other candidates and add a personal touch to otherwise dry test scores and undergraduate transcripts. With Vanderbilt's Round 1 MBA application deadline approaching on October 19, I wanted to offer a few suggestions on how to use the essay section to make your application stand out, speaking as both an Associate Director of Admissions and an MBA graduate myself (Owen MBA Class of 2014). Here are my most important tips:
Be a storyteller
The best essays are often the ones that tell us a story about the candidate. Tell us what you have done, what it is you want to do, and how an MBA — specifically a Vanderbilt MBA — can get you from point A to point B. However, that is not to say we expect you to have the next 10-20 years of your life plotted out! We know people will change their minds once they get here and are exposed to the variety of classes and experiential learning opportunities we offer. But you should still show us you have at least put some thought into what type of job you may be interested in after graduating, some sample companies who offer that type of role, and what opportunities you will take advantage of as a student to help you successfully obtain that position.
Think about transferable skills
Candidates with non-traditional work backgrounds often ask if they are at a disadvantage in the application review process compared to those who worked in business roles such as accounting or consulting. The answer is no! What admissions committees and corporate recruiters are looking for are transferable skills: project management, leadership, teamwork, communication, etc. Though a recognizable brand name on your resume certainly won't hurt, we tend to be less concerned with who you have worked for versus what you have done. Tell us what skills you have developed and how they will help you succeed as a student and a future employee.
Be school specific
You would probably be surprised at how many essays we read from candidates who obviously used the "Find and Replace" function to swap out another school's name, put in Vanderbilt, and left it at that. Be sure to include in your essay why you are applying specifically to each school — what about our programs interests or even excites you?
Also, although it may be tempting to use the same personal statement essay for every school to which you are applying, each school will ask their question(s) in slightly different ways depending on qualities they may be focusing on during the file review process. Make sure your essay answers the specific question(s) that are being asked.
Is optional really optional?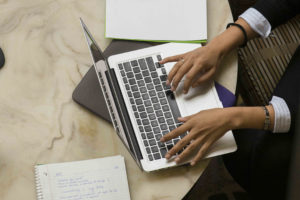 Many schools, including Vanderbilt, provide an open-ended essay for applicants to share anything they would like. Usually this essay is used to address problem areas of an application, such as gaps in employment history, below-par undergraduate academic performance, or other special circumstances. If you do have any information you would like to share with us that you were not able to do so anywhere else in your application, feel free to use this space to do so. However, do not feel like you have to write something just because the space is there.
Bonus section: The video essay
By applicant request, Vanderbilt (alongside many other business schools) includes a short video response question in the application in addition to the written essay. The video essay gives candidates the opportunity to showcase their personalities and public speaking skills. You will be randomly assigned one of about 30 questions to answer, and you are given 30 seconds to prepare and then up to 90 seconds to respond. The questions are meant to help admissions officers get to know you better as a person, so take them seriously — but don't be afraid to have a little fun! I usually tell people to watch a funny YouTube video or listen to their workout jam to put them in a good mood, then just sit down and do it. Just don't forget to think about the appearance of both yourself and your background before hitting "record."
Want to learn more about getting an MBA at Vanderbilt Business? Visit the program page or request more information.