Carrie Wintle (MAcc '18) will spend her year-long reign educating children on financial literacy and empowering young girls
A love for finance has always run deep in Carrie Wintle's blood. As a young girl, Wintle raised and sold sheep on her family's farm in South Dakota, watching her hard-earned money grow through her savings account and investments. This business savvy led Wintle to study accounting and mathematics as an undergraduate at the University of South Dakota. After graduating, Wintle decided to further her education and professional advancement by pursuing a Master of Accountancy (MAcc) at Vanderbilt, which she graduated from in May 2018.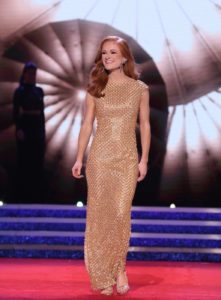 But finance isn't Wintle's only passion: She began competing in Miss South Dakota local pageants when she was just 13 years old, and earned the title of Miss State Fair in June of 2017 before starting business school. This title qualified her to fight for her home state's crown in June of 2018 after graduating from the MAcc program.
In other words, Wintle had to prepare to compete in Miss South Dakota while managing the rigors of business school, a challenge that others might have found daunting — but not her. Between study sessions, she logged many hours of piano practice performing at various nursing homes around Nashville in order to perfect her technique for the talent portion of the competition.
"In the simplest terms, the Miss America organization has made me fearless," Wintle said. "I'm able to look at a goal and go after it without any hesitation."
Founding Her Own Nonprofit
In addition to the talent showcase, all contestants are required to have a platform promoting a charitable cause, so Wintle drew inspiration from her childhood days raising and selling sheep to found Money $heep, a 501(c)(3) nonprofit teaching financial literacy to youth. As part of her nonprofit, Wintle authored a book called Mr. Money $heep, which educates elementary children on the five foundations of financial literacy: budgeting, saving, income, loans/debt, and investment risk.
"I couldn't have done what I did with Money $heep and working with a nonprofit organization, writing a book, and talking about financial concepts, without my educational background in finance and accounting and specifically my MAcc degree," Wintle said. "It provided the education I needed to make my organization and what I was trying to do successful."
Succeeding on Stage and in Business
Ultimately, Wintle's relentless determination paid off when she was crowned Miss South Dakota 2018 in June. Her victory qualified her to compete in Miss America in September, where she received a $5,000 Women in Business scholarship.
"I think a part of why I got the Women in Business scholarship at Miss America is because I have the experience of an internship under my belt with KPMG thanks to Owen," Wintle said. (Vanderbilt MAcc students intern with Big Four firms during January and February of the academic year.) "I had so much more experience meeting and dealing with different business professionals because of the events that Owen hosts and I was able to talk about that in my interview," she continued.
In fact, Wintle has earned a total of over $30,000 in scholarships through the Miss America organization. She credits the program for empowering her with the confidence to succeed in the business world.
"I started competing in the system when I was actually a teenager," Wintle said. "I knew Miss South Dakota 2006, who was from my hometown, and she was a huge role model for me. She kind of convinced me to give it a try, and I did. Through competing in the teen program, I watched myself change from a very shy, timid young girl to someone who was much more outgoing, much more confident in myself. The skills I was gaining through the Miss America organization — public speaking, knowing how to start a project at its most basic level… and form it into a 501(c)(3) nonprofit — those skills were so valuable to me and continue to be valuable as I pursue a career in business."
Looking Forward
After completing her year-long reign as Miss South Dakota in June of 2019, Wintle will work full-time for KPMG. In the meantime, she is continuing her professional development by studying for the CPA exam and the second level of the CFA exam. She's also traveling across her home state, educating children about financial literacy, making appearances at various events, and promoting the Miss South Dakota organization.
"I particularly enjoy meeting young girls who I can see were a little bit like me when I was their age, very shy and timid, but who have so much potential and so much opportunity ahead of them," Wintle said. "To get to meet them and talk about my experience and learn what they want to achieve in some of their dreams — that's my favorite thing about the job of Miss South Dakota."
To learn more about the Vanderbilt Master of Accountancy (MAcc) degree, visit the website pages for the MAcc Assurance or MAcc Valuation programs.