The Executive Director and Director of Recruiting for the Vanderbilt Business Executive MBA program outline five possible sources of funding
By Kara Sherrer
Attending an Executive MBA program is a big commitment of time, effort, and money, and there are often a lot of questions surrounding the last component, since Executive MBA students are working as they earn their degrees. We sat down with Juli Bennett, Executive Director, and Sarah Fairbank, Director of Recruiting, to get the details on five possible sources of funding for Executive MBA students.
Student Loans and Financial Aid
While many associate the Free Application for Federal Student Aid (FAFSA) with their undergraduate days, Vanderbilt Executive MBA students can actually apply for financial aid through this program. "This is a full-time program, eligible for the FAFSA, and you can get student loans for all of it," Bennett said.
"We sometimes see students borrow the full cost of the program, but not necessarily use the full loan amount…so they pay back a huge chunk of it right as they graduate," Fairbank added.
Vanderbilt Scholarships
Vanderbilt Business offers an entire array of scholarships for Executive MBA students, including the Brockenborough Family Scholarship, the Ingram Scholar Award Scholarship, the Forté Fellowship for Women, the Diversity Scholarship, the Nonprofit Management Scholarship, and the Global Immersion Track Scholarship. The deadline for the Nonprofit Management Scholarship is March 31 and the deadline for all the others is May 31.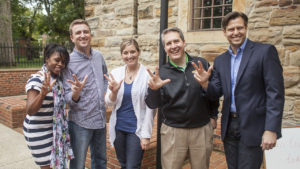 Prospective students interested in applying for these scholarships complete one additional essay when they submit their application. The essay will be considered for all scholarship opportunities, so applicants don't need to write an individual essay for each one.
As a Yellow Ribbon GI Educational Enhancement program participant, Vanderbilt Business also offers additional funding opportunities for eligible military veterans.
Outside Scholarships
There are also scholarships available outside of Vanderbilt, such as the Pat Tillman Foundation for veterans, and many local community foundations also offer scholarships for residents pursuing continuing education. Depending on your current job, you might qualify for an industry scholarship. There are also websites available that can match you with outside scholarships after you fill out a profile; you then apply for the scholarships by submitting an essay.
Company Sponsorships
Executive MBA students are often eligible for some level of financial support from their employer, as getting an MBA significantly contributes to their professional development. "We will work with our students to help them articulate the return on investment that the employer is going to get from them participating in Vanderbilt's Executive MBA program," Bennett said.
Fairbank notes that because the program spans three calendar years, students often receive three years of company sponsorship. However, sponsorships often come with agreements whereby recipients agree to stay with the company for a set amount of time (typically three years as well), so students must decide if this agreement is worth the time commitment.
Other Options
For those Executive MBA students who pay out of pocket, tuition may be tax deductible depending on your situation; an accountant will be able to best advise you on the tax implications of this payment route. Others opt to refinance their home or take out home equity loans, sometimes finding that this is a cheaper route due to the strong housing market. 529 savings plans can also be used to pay for graduate school, and you can name yourself the beneficiary of a 529 fund, allowing you to put that money towards an Executive MBA program. Tax benefits and holding periods for 529s vary by state and individual savings plans, so a financial expert will be able to offer the best counseling for your individual situation.
As prospective students weigh all these financing options, Bennett recommends that they also consider the future of their career and how the Executive MBA impacts that, including probable salary increases. "I do think you have to break out the costs over what you're going to get over the entire life of your career. You might take a promotion or two during the term of the program…and just that over time will more than pay for the degree," she said.
To learn more about the Executive MBA program at Vanderbilt Business, visit the program page or request more information.