Former Kentucky punter Landon Foster (MSF'19) finds acceptance in the business world while advocating for LGBTQ+ rights in football
By Heream Yang
If there is one thing Landon Foster has always been sure of, it is his identity as an athlete. The Nashville native has been playing soccer for as long as he can remember and took up football in high school. His father, a former safety for the University of Tennessee, instilled a love of SEC football in his son.
"When I wasn't on the field playing soccer every Saturday…I would be at a sports bar watching college football, and so it was always a dream (to play in the SEC)," Foster said. "I put that on a pedestal — playing in front of 100,000 people — it's tough to get a better experience in college than that."
In full pursuit of his goals, Foster attended boot camps across the nation the summer before his senior year in hopes of being recruited as a punter/kicker. He ultimately accepted an offer to play for the University of Kentucky Wildcats, accomplishing his dream of playing SEC football. However, off the field, Foster was beginning to grapple with another part of his identity, and it took a national chain of events during his college years for him to discover exactly what that was.
Coming Out, in Stages
Michael Sam, the first openly gay player drafted by the NFL, publicly came out in February of 2014, the spring of Foster's sophomore year in college. Then in June of 2015, right before Foster entered his senior year, the Supreme Court legalized same-sex marriage in all 50 states. A few weeks later, emboldened by this national show of support of gay rights, Foster decided to reveal part of his identity that he had been grappling with for a long time by coming out to his mother.
About a week after that, a Kentucky district clerk refused to issue a marriage license to a same-sex couple. "That's 30 miles down the road from where I was playing, representing that state's university," Foster said. "I was at a point where first, you have to come out to yourself and (realize your sexuality) isn't ever going to change, so that happened right at that tipping point. (On a) national scale, it was great and I (realized) there were so many people in support of this."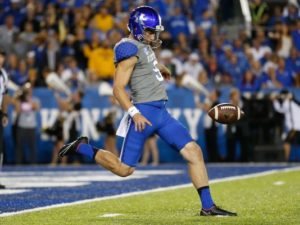 As Foster personally settled into his identity as a gay man, he debated whether or not to come out to his team. After speaking with various mentors, he decided to delay coming out publicly in favor of keeping the team focused on what ultimately mattered most: advancing to a bowl game.
"Playing in SEC football, it's the last thing you would ever say or ever want to be… I wanted to speak up, but at that point, right before my senior year, (I was) trying to represent sports and represent the University of Kentucky in the best way," he said. "I had a couple conversations and realized that I was still part of the team, I still wanted to go to a bowl game, and I didn't want to be any kind of distraction — that's who I am, a team player."
After graduating Summa Cum Laude with a Bachelor's of Business Administration in Finance and Marketing from UK, Foster spent some time thinking about his career path. He had a lifelong fascination with medicine stemming from his injuries as an athlete, but after shadowing several doctors, he realized it was not the right career for him. In an effort to further explore his academic interests, Foster enrolled at the University of South Florida Saint Petersburg as a non-degree seeking student.
As he pondered his next steps, he decided it was time to make a bold move: On June 20, 2018, he came out publicly with an article published on SB Nation's Outsport, a website that focuses on LGBTQ+ issues and personalities within sports.
"For much of my life, all I can remember are my feelings of self-hatred and my longing to be straight," Foster wrote. "I wanted to fit in, and I did everything I could to 'make' myself straight. One thing I have come to realize is I cannot thrive personally, athletically, or professionally if I am not first proud of myself. It took me 24 years to come to grips with my sexuality. Now I am proud of it. I have to be proud of it. It's how I was created."
I cannot thrive personally, athletically, or professionally if I am not first proud of myself. —Landon Foster
Finding His Career Path
Always interested in math and logic, Foster had enjoyed his undergraduate finance courses and decided to pursue a career in business after wrapping up classes at USF. He specifically sought out a fast-track program that would equip him with the necessary skills to land a job upon graduation. This search ultimately led him to the Master of Science in Finance program at Vanderbilt, where he found a welcoming community of classmates.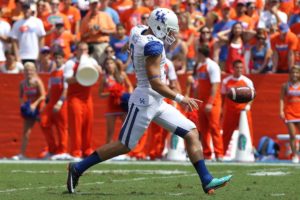 He published his coming out article about a month before starting school at Vanderbilt Business, and says it was well-received by his new classmates. "Most people knew (I was gay) in my class before I even got here, and you just bring it up in conversations and that's how you normalize it," he said.
Foster says the welcoming atmosphere has allowed him to build close relationships since the start of the program. "Our class is incredible…You have a tight knit cohort that you're in: 60 people that you know most of them by the end of Mod I," he said. "Everyone's stressed, but everyone helps each other, and I think that's very different from a lot of other schools."
So far, Foster says he has found a largely welcoming community in the greater business world. Moving forward, he seeks to bring this model of inclusivity into the sports world as well.
"On the business side, it's constant integration… Leaders that are LGBTQ+ in business are taking on that role model persona, and there are plenty of events that you can go to and groups that you can join (with) peers and mentors wanting to help you," he said. "It was very tough for them (to come out originally), so that's kind of what I'm trying to do in sports as well. There are a couple of events and leaders in sports, but it hasn't been as well directed and as well implemented in sports."
You have to look in the mirror and try to be as honest with yourself as possible. —Landon Foster
To that end, Foster has been doing LGBTQ+ advocacy work since coming out earlier this year, even as he studies for MSF classes and recruits for jobs. In addition to his Outsports article, Foster has given a TEDx talk at the University of South Florida in Saint Petersburg entitled, "Coming Out About the Barrier I Did Not Break Because of the Courage I Did Not Have," speaking out about the struggle of reconciling his identity as both a football player and a gay man. His story has been featured on Forbes, USA Today, and the Lexington Herald Leader, among other news sites. Most recently, Foster is scheduled to be the featured guest speaker at the University of Kentucky's Feast on Equality event on December 7, 2018, which seeks to raise awareness and funds to support LGBTQ+ youth.
"I think (identity) is going to be a constant struggle for everyone," Foster said. "I'm definitely not perfect. You're always going to want to be 'normal,' but you're also going to want to be a leader and set yourself apart."
"You have to look in the mirror and try to be as honest with yourself as possible," he continued. "You're not saying everything in life is going to be enjoyable or perfect, but I think you just kind of have an internal feeling of what feels right and doesn't feel right to who you are."
Want to learn more about the Master of Science in Finance degree at Vanderbilt Business? Visit the program page, or request more information.