Army veteran Chase Wilson (MBA'19) says the program will give him the chance to lead teams like he did in the military
By Heream Yang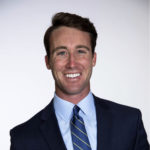 During his time in the Army, Chase Wilson (MBA'19) managed large teams, sometimes more than 100 people, as he served as a logistics officer. This experience gave him great stories to tell as he recruited for MBA internships — and helped him realize how important leadership was to him and his future career.
"I remember thinking, which of these roles is going to give me the opportunity to jump back into a leadership capacity as quickly as possible?" he recalls of his recruiting process.
Wilson attended as many info sessions as he could to start off, but over time narrowed his focus on leadership development programs, which would give him the chance to lead teams like he did in the military. He interned at Medtronic during the summer and ultimately accepted a full-time offer for DaVita's Redwoods program. The year-long intensive program will prepare him to quickly ramp up into management roles at the company.
"Being away from the military for a couple years and not being responsible for team…I realized how much I missed that and how important that was to me," he said. "The DaVita role gave me the opportunity to jump back into a similar capacity right off the bat."
Click through Wilson's timeline below to find out how he landed the offer.
Want to learn more about getting an MBA at Vanderbilt Business? Visit the program page or request more information.