Alex Fordham (MSF'19) nabbed a job at a healthcare private equity firm right out of his one-year master's program
By Heream Yang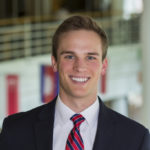 Most finance students who hope to build a career in private equity or venture capital work for a couple years in investment banking to get experience before making the transition. Not so for Alex Fordham, who leveraged prior internships and his Master of Science in Finance (MSF) degree to get a job in private equity right after school. He'll be working as an analyst at Shore Capital Partners, a healthcare private equity firm, after graduating in May.
Before coming to the MSF program, Fordham already had a finance degree from Belmont University as well as several finance internships at local firms under his belt. However, he realized that he needed an additional degree from a top university in order to break into the caliber of firms he wanted to target. "Belmont wasn't a target business school (for these firms), so I knew I needed to take a step up if I wanted to get the kinds of jobs I was looking at," he said.
The Vanderbilt Business MSF program and Fordham's consistent networking paid off when he received the full-time offer from Shore Capital, a Chicago-based firm that will be opening up a new office in Nashville later in the year. Fordham will begin work in Chicago and then move back to Nashville once the new office opens, something the Music City native looks forward to.
In the meantime, he's excited to dive into private equity work after graduation. "I like to push myself and get better everyday, so knowing I'm in an environment to do that is (great)," he said.
Click through Fordham's timeline below to find out how he landed the offer.
Want to learn more about the Master of Science in Finance degree at Vanderbilt Business? Visit the program page, or request more information.