Discover the many ways an Executive MBA program can pay off later in your career, from better earning potential to leadership development
By Web Communications
This post was co-written by Zeke Arteaga, Associate Director of Admissions for the MBA program and Sarah Fairbank, Director of Recruiting for the Executive MBA program.
If you have looked into Executive MBA programs, it's no secret that getting an MBA is a big investment of time and money. What you might not know is that the ROI of the MBA can be measured by more than just your earnings potential (though of course that's very important!). At Vanderbilt, we like to think not just about your return on investment (ROI), but also your return on education, or ROE. What do we mean by ROE? It includes time and money, but encompasses so much more: business knowledge, leadership development, and so on. If you're debating whether or not getting your MBA at this stage of your career is worth it, here's what you should consider:
Better Earning Potential
Making money is important and an MBA helps you maximize your earning potential for the rest of your life. The investment you make today pays off in the short term and the long run as you advance in your career: At Vanderbilt Business, our Executive MBA students earn back their financial investment in their careers in just 1.8 years — well ahead of the industry average! Assuming you will continue to have salary increases as you advance, then it should be clear that you are making a very wise investment in your future, financially speaking.
A Foundation in Business Knowledge
At their core, MBA programs prepare you for a management career in business, whether at a large company or start up, a public or private company or even a non-profit or NGO. Executive MBA programs are designed for people who have been in a career long enough to develop an expertise in a functional area, industry, or both — but who haven't received a broad business education from other sources. You will leave the Executive MBA program with an advanced knowledge of business concepts to apply as you move forward in your career.
Leadership Development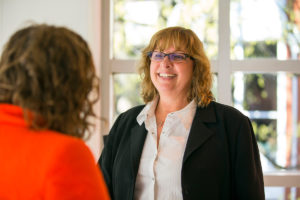 Aside from your classes, you will also develop key soft skills that are not only valuable, but necessary in the business world. All good Executive MBA programs include some type of leadership development component, whether it's ancillary or integrated into the curriculum. Some programs also offer personalized training, such as Vanderbilt Business' Leadership Development Program, to help you really identify your strengths and understand your leadership style. After all, you've gone back to school to propel your career forward, and good leadership and management skills are critical to securing more advanced roles.
Career Development Resources
You decide to pursue an MBA mid-career because you have ambitious plans for your career. While at business school, you will have access to a variety of career resources to help you polish your resume, update your LinkedIn profile, improve your interviewing skills, determine the next step in your career, navigate promotion opportunities, and more. At Vanderbilt Business, we even pair each Executive MBA student with a career coach, to help you capitalize on your new abilities and expand your career opportunities. And as an alumnus, you will still have career services support to make sure you continue to be successful.
Alumni Network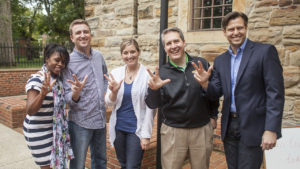 Who you know is important, and many people attend business school in order to meet peers and connect with alumni of the school. Of course, you'll build tight relationships with your Executive MBA cohort as you all go through classes and group projects together. And with over 9,500 Vanderbilt Business alumni across the world plus thousands more Vanderbilt University grads, you will gain a valuable network of peers, mentors, friends, and a community that will help you succeed during and after your time at business school.
Want to know more about how an Executive MBA program can pay off for you? Visit our program page, or register for our preview day on January 19. If you can't make it then, we'll also be taking our info sessions on the road starting in February; click here to see a full list of Vanderbilt Business Executive MBA events.