The assistant professor of management looks at the intersection of these issues in organizations
By Web Communications
This article was written by Randy Horick and Krysten Crawford.
Growing up, Jessica Kennedy was the last person to think about gender. She didn't have to. Other people did it for her.
Years later, when she worked in investment banking after college, she observed a female star performer quit over unequal pay and poor treatment.
Yet there were encouraging moments, too. When a client disparaged a talented female banker, the male team leader called out the injustice. Another time, a female analyst stood up to a managing director for assigning her menial work—and he thanked her for opening his eyes to his bias.
For Kennedy, the fact that gender was ever an issue at all was disconcerting and intriguing. But gender bias wasn't the only workplace behavior that didn't make sense to her. Sometimes people carefully selected leaders who would benefit the group at large. Other times, people with obvious character defects moved up the ladder instead.
"I was trained to think people were rational, self-interested actors," Kennedy said. "Then I realized that the purely rational organization is a myth. Organizations are social systems full of short-sighted decisions and inefficiencies."
This discovery marked a turning point for Kennedy. She shifted to focus on how to improve organizations, pursuing doctoral study at UC Berkeley's Haas School of Business. Today, she is an assistant professor of management at Vanderbilt's Owen Graduate School of Management, where her research and teaching focus on gender, ethics, and hierarchies within organizations.
Advancing the State of Knowledge
Kennedy's ground-breaking insights have shed light on important workplace dynamics. She has, for example, advanced what is known about gender bias in the workplace. Women, it turns out, are held to a higher ethical standard than men — and are more likely to lose their hard-earned positions when they make ethical mistakes. Separately, she has analyzed the reasons women are perceived to be less effective negotiators and provided evidence that women bring unique advantages to negotiations in terms of greater cooperativeness and stronger ethics.  She has described how — despite these strengths — female negotiators are targets of deception more often than male negotiators.
Her research has also looked at unethical business practices and how they are addressed within organizations. She finds, among other things, that advancing to higher-ranking positions in the organizational hierarchy makes it more difficult for people to recognize unethical practices as such. In the context of negotiations, she has shown how negotiators' beliefs impact whether they continue to trust a shady counterpart, to their own risk. In still another study, she counters perceptions that people who uphold ethical standards always lose out by showing that those who enforce ethical behavior often earn people's trust when their actions are seen as genuine.
"Behavioral problems within organizations are very important — and also very complicated to solve," Kennedy said. "My overarching goal is to identify why these problems persist and to provide guidance on how to address them so that the entire organization benefits."
For her stage of career, Kennedy has an exceptional record of producing original knowledge.  She has co-authored a dozen published papers to date and served as lead author on seven of them. In 2018, an article she co-authored about women as effective negotiators and leaders won a top award from the Academy of Management. She has also received the Dean's Teaching Award and the Vanderbilt Chancellor's Award for Research on Diversity and Inclusion. Poets & Quants named her one of the "Best 40 Professors under 40."
Having a Real-World Impact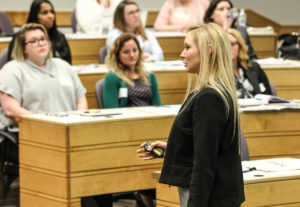 From her own work experience, Kennedy knows that organizations thrive when they inspire workers to do their best and to act for the collective good.
Problems arise for two broad reasons, she says. One is a focus on the short-term at the expense of long-term interests. The other is a breakdown in social relationships, which causes workers to lose motivation. Both, she says, represent irrational behavior and bad decision-making, which threaten organizations' viability.
The constructs of gender, ethics, and hierarchy are often at the root of many workplace dysfunctions. "All three issues have to be addressed if organizations are to meet the ideal standards of meritocracy and efficiency," Kennedy said.
In her research, Kennedy goes beyond advancing theory. She recommends practical strategies to help organizations turn her research findings into action. For instance, she suggests raising awareness that effective negotiation skills come from hard work and practice — not genetics — as way to counteract negative stereotypes about women.
"People who recognize this fact typically exhibit less gender bias because they are more open to information that disconfirms their stereotypes," she said.
Looking back, Kennedy says she no longer marvels at how irrational thinking about gender, ethics and hierarchy impacts organizations. Looking ahead, she is encouraged to see the impact of her research and teaching — not just on organizations of today, but those of tomorrow.
"This is what I love about teaching," says Kennedy. "The next generation of business leaders can serve as agents of change. To see them learning to understand why these problems exist and what they can do to solve them is gratifying and exciting."