Cameron Phipps (MBA'19) explains how his MBA goes hand-in-hand with his science background to position him for success in the healthcare industry
By Heream Yang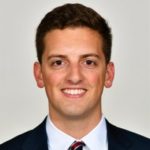 Early on, Cameron Phipps (MBA'19) realized that the key to a successful career in healthcare lies in having both strong technical and business skills. Having studied Chemistry and Community Health during college at the University of Illinois, Phipps gained the scientific knowledge he needed to launch his career as a consultant and project manager in the healthcare IT space.
But after three years of experience, Phipps realized that he also needed a solid foundation in business if he wanted to take the next step in his healthcare career. He decided to pursue an MBA at Vanderbilt Business, which has one of the strongest b-school track records in healthcare.
Phipps utilized Vanderbilt's extensive alumni network in the healthcare field to connect with companies all over the country, ultimately landing a summer internship at Takeda Pharmaceutical Company. He used his time there to clarify his career aspirations, and became drawn to healthcare consulting.
"I found myself really enjoying jumping from one project to another over the summer," he said. "It really led me to feeling strong about a post-MBA consulting career."
Phipps ultimately accepted a full-time offer from PwC's Delivery and Deal Value – Healthcare Industry Advisory Team in Chicago, where he will begin working as a Senior Associate after graduating in May. "There's so many different avenues you can go into in the healthcare industry," he said. "If you have an interest in all of them, consulting is your perfect space, because it gives you a chance to work on clients that will be in the payor, provider, biotech/pharma (spaces)."
Click through Phipps's timeline below to find out how he landed the offer.
Want to learn more about getting an MBA at Vanderbilt Business? Visit the program page or request more information.