The Armed Forces Club helps veterans and active-duty members with every step of the b-school process, from deciding on a school to finding a full-time job offer
By Heream Yang
Business school is an adjustment for any student. Many have been out of school for several years and must adjust to having homework once again. Some also have families and must find a balance between their academic, professional, and home lives. For military veterans, this adjustment comes with the unique challenge of navigating the transition from military life to civilian life.
"It's a unique tipping point in somebody's life where they've had (several) years in the military where that was their singular focus, and now they're out of the military, so they've lost some of this higher purpose (from) the oath that they took to defend the Constitution and the nation," said Tom Gallagher (MBA'19), outgoing president of the Armed Forces Club.
For military service members looking to transition into the corporate world, Owen's Armed Forces Club provides a support network of current students who have successfully navigated the transition themselves. From navigating the admissions process to finding community on campus to recruiting for internships and jobs, the Armed Forces Club serves as a rich resource for military students at Owen.
Getting into B-School
While the business school admissions process can be grueling for civilians, there are countless additional challenges for veterans. That's why Armed Forces Club members work with the admissions office to host prospective students on campus visits and offer an insider's perspective on life at Owen after military service. In addition, volunteers are also available to chat on the phone or answer questions over email about everything from Nashville to GMAT scores. "If you don't have anybody helping you through (the process), it's very difficult to navigate," said Seth Staugler (MBA'20), an Army veteran and a member of the Armed Forces club.
"Owen is nice because it's a smaller program and the amount of veteran representation is pretty high," Gallagher added. "We have a great admissions staff that really puts forth the effort, specifically Christie St-John (Director of MBA Admissions). She goes to a lot of the career conferences tailored towards the military."
Once candidates have been admitted, members of the Armed Forces Club are committed to ensuring that each student has the tools they need to succeed in business school, and current students advise incoming students on ways to prepare for the rigorous curriculum at business school. Some veterans, for instance, do not have significant quantitative experience and may need to brush up on their skills by taking a summer course.
Finding a New Community
While veterans may no longer be a part of the military, an unbreakable bond continues to connect them. "I was privileged to serve," Staugler said. "I feel very privileged to lead soldiers in a noble cause. The government gave me a lot of responsibility to take care of them and you get that same sense in the Armed Forces Club. We take care of one another, so immediately coming into Owen… you have a support group that's going to take care of you."
Every year, the Armed Forces Club gathers for the Taylor Force Memorial Golf Tournament in order to honor a brother-in-arms whose life was ended too soon. Taylor Force, a first-year MBA student and West Point graduate, was killed on March 8, 2016, in a terrorist attack in Israel while on an Owen-sponsored trip studying global entrepreneurship. In honor of his memory, the Armed Forces Club raises money through the golf tournament for the Taylor Force Memorial Scholarship Fund, which was established in his honor and offers financial support to Owen students.
"The best part about (the tournament is) the alumni that come here, just remembering him and honoring him and making sure that he's not forgotten," Staugler said. "That's a big thing in the military, is making sure we don't forget those that came before us."
In order to foster a deeper understanding of the military among civilian students, the Armed Forces Club also hosts a Closing Bell happy hour around Veteran's Day each year. In addition to providing refreshments, club members bring memorabilia from their time in the military, allowing their classmates to learn more about their experiences through photographs, uniforms, and equipment.
"Sometimes we have trouble relating to people who have straight corporate America experience, so I think it was nice to give them a sense of what our previous life was like," Staugler said. "We've got a bunch of helicopter pilots, (a) Special Forces guy, intelligence officers, (and an) Arabic linguist. We have different jobs, so everybody got a well-rounded view of the military branches."
Preparing Students for Recruitment
Without a doubt, serving in the military comes with unmatched leadership experiences and opportunities. However, articulating these experiences to recruiters from non-military backgrounds can be quite challenging. That's why the Armed Forces Club hosts a résumé workshop with the CMC specifically geared towards helping veterans describe their experiences in universally understood terms.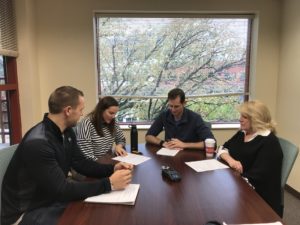 "We look for specific things in people's resumes from their military background that might be hard to understand for somebody who didn't spend any time in the military and we make sure that we can get that translated over to something that makes sense for everybody and will be targeted to the specific company or specific role," Gallagher said.
In addition to résumé sessions, the Armed Forces Club and the overall veteran network provide a valuable extensive network for members going through the internship and job recruiting process. "Once you're a veteran, that bond is never broken," Staugler said. "Most of my recruiting was off-campus and I used my veteran network."
Ultimately, the Armed Forces Club is one more reason that Owen's community and resources are an appealing choice for veterans and active-duty members looking to launch their business careers. "Even if you're not from Nashville, if you're military and you're from the south, (you know that) Vanderbilt is a very prestigious university," Gallagher said. "The VA educational benefits in order to attend get reduced tuition (are) pretty substantial… and Vanderbilt and Nashville (are) known as very friendly and understanding to the veteran population."
Want to learn more about getting an MBA at Vanderbilt Business? Visit the program page or request more information.