Learn what marketing managers do and how marketing manager jobs differ in an agency versus a company
By Jong Eun Jung
Marketing management is a diverse field that encompasses many possible roles and industries. While some MBA graduates do seek work in more specialized areas such as brand management or product management, marketing management has a lot to offer when it comes to exploring new industries and capabilities.
For those wondering how to become a marketing manager, we talked to Amanda Fend, Senior Associate Director of the Career Management Center, to find out what marketing management is and how the role can differ depending on whether you work at an agency or a company.
What is marketing management?
Most MBAs start off in a generalist marketing manager role right after graduation. After gaining experience, they may later choose to enter a more specialized role such as social media management. Many different businesses of all kinds need support in marketing strategy, so marketing manager jobs can be found in various industries and agencies. "It could be in hospitality, it could be in music, it could be in sports, it can be in manufacturing," Fend said.
A marketing manager's day-to-day tasks vary depending on a variety of factors, including what industry they work in, what employer or client they work for, and what specializations they have (if any). The one common thread is the "management" aspect, since marketing managers oversee the entire process of creating and implementing a marketing strategy. Specific duties might include developing a promotional strategy for a service or product, researching the marketplace, creating deliverables such as email copy, and managing relationships with outside agencies, just to name a few.
"You're taking part in developing the strategy for that business, or that product, or whatever it is," Fend said. "(You're) understanding the marketplace, understanding any changes, looking at data all the time — like customer data and sales data — incorporating that into the strategy, updating the strategy as needed, and then executing that."
What does a marketing manager do at an agency?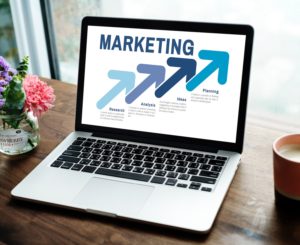 As a marketing manager in an agency, you will get the opportunity to quickly gain a lot of experience in different areas of marketing by overseeing various projects from different clients. The exposure to different clients, industries, and aspects of marketing can be very beneficial for MBAs who want to explore the field. "There's a lot of value in going to an agency because it's kind of like consulting. I hear a lot of MBAs say, 'I want consulting because I don't really know what I want to do when I (graduate),'" Fend said.
Working with different types of clients will help you build portfolio marketing skills and make you a versatile marketer. You will experience different industries through your client work and develop valuable client relationship skills. "(Your clients) can be in anything: hospitality, music, sports, manufacturing… you'll adapt to whatever," Fend said. Later, you can leverage those skills to switch over to the corporate side or specialize in one industry.
What does a marketing manager do at a company?
Depending on the size of the company, marketing managers in a company may work across multiple products and divisions or focus on just one. Regardless, you'll still be managing people and executing marketing strategies while gaining experience in different areas of marketing. Because of this more focused approach, the corporate environment tends to be less fast-paced than being at an agency with a diverse range of clients.
Most companies want marketing managers to gain exposure to different aspects of marketing before they specialize in one area. This is why most MBAs start in a generalist marketing manager job in the company, then move into a specialist role after gaining a few years of experience. "(Companies) are going to be really conscientious of you getting a lot of different experiences while developing you as a manager… (They) identify gaps in (your) résumé, experience, and skill set, and fill them," Fend said.