100% of the Class accepted offers within three months of graduation
By Kara Sherrer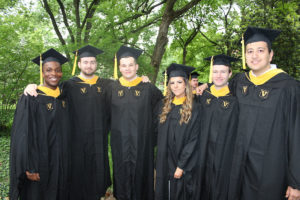 Class of 2019 graduates from the Master of Science in Finance (MSF) program at Vanderbilt Owen Graduate School of Management reported average base salary earnings of $78,343. This is a significant increase from last year's figure of $71,530 and the highest average base salary in the program's history.
The Vanderbilt MSF program has an excellent track record of employment outcomes, and this trend continued with the Class of 2019, with 100 percent of graduates accepting an offer within just three months of graduation.
Investment banking was the most popular sector for employment this year, with 53 percent of graduates accepting positions in the field, setting a new record for the program. However, many graduates also pursued work in other areas, including financial consulting, investment research, management consulting, real estate, corporate finance, and private equity.
Graduates also found equal variety in terms of geographic placement, accepting positions all over the country. New York City was the most popular metro area, followed by Nashville, Charlotte, Atlanta, and Chicago.
The Career Management Center begins working with MSF students before they even set foot on campus. "Our focus on networking along with our tailored virtual career programming — that starts job search preparation even before classes begin — gives our students a key competitive advantage," said Megan Nichols, Associate Director of the Career Management Center.
Nichols also credits the Vanderbilt alumni network, in particular fellow MSF graduates, with helping the Class of 2019 secure their positions. Almost one-quarter of accepted offers came from alumni referrals this year. "A loyal and accessible alumni network is essential in today's competitive job market, and we would not be able to achieve this level of employment outcomes without the support of incredible Vanderbilt alumni," she said.
A summary of this year's MSF employment report may be viewed here.
To learn more about the MSF program at Vanderbilt, discover the ROI of a Master of Science in Finance or meet the Class of 2020.
Want to start your career in finance with these kinds of outcomes? Click here to apply to the MSF program.