Here are five ways Accelerator® Summer Business Immersion will boost your professional career
By Jong Eun Jung
Summer break is a great time for college students to relax and have fun. However, it can also be a time of growth and learning thanks to summer programs like Vanderbilt Business School's Accelerator® Summer Business Immersion. Accelerator is a month-long program where students complete four consulting projects for real-life companies and learn from renowned business professors in the classroom.
"Accelerator® Summer Business Immersion is unique in that… students are working on real-world problems that companies are currently facing and want a fresh perspective (on). It's not just case studies and classroom learning. It's really hands on," said Greg Harvey, Director of Accelerator. Harvey explained five ways that attending Accelerator can help your career:
Exposure to Different Careers
Accelerator is open to students regardless of their majors. "We've had art majors, philosophy majors, and political science majors," Harvey said. Every week, students work on a different project and learn about a different function, such as marketing or operations. The diversity of clients and roles opens students' minds to a variety of potential career options. For example, an English major might become interested in marketing and realize they could become a content marketer instead of a book author. "I think Accelerator does a really good job of showcasing different career paths through the structure (of the program) and the nature of students working as consultants and teams during the month," Harvey added.
Hands-On Learning
Accelerator merges classroom learning and real-world problem-solving. Each team of students is assigned an MBA coach and also receives feedback from faculty members and executives while working on their projects. The coach, faculty, and executives work with the students to fix mistakes and learn from them. "I like to remind students that this really is a safe place to learn and make mistakes. We're not setting students up to fail," Harvey said. "We're not going to give students the answers, but we're going to help them come up with viable solutions to present."
Résumé Builder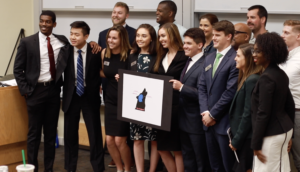 The experience of working on four different consulting projects and presenting them to the company executives is a great addition to any college student's résumé. It's especially helpful for students who've finished their first year of college but need something more on their résumé, since it can be difficult to land an internship as a freshman. "We found that the earlier students do Accelerator, the better," Harvey said. Accelerator is also beneficial to recent graduates who want to make a career change and need experience in business to apply for relevant internships and jobs.
Networking
During Accelerator, students work in teams of seven or eight people. It can be challenging to collaborate with so many peers since everyone has different opinions, but interacting with highly motivated individuals can be very rewarding. "(Students) are not just networking with their coaches, faculty, and executives, but they really build this new network of their colleagues and fellow students that they go on to have not just a social relationship with but potentially do business (together) down the road," Harvey said.
Stories for Interviews
One of the biggest long-term benefits of Accelerator are stories to tell in interviews for future internships and jobs. Harvey says that interviewers pay attention to the stories of potential candidates because they reveal a lot about the person's personality and background. "I'm really amazed at how much students fall back on their Accelerator experience in interviews," he said. "The cool part is that (students) really have this amazing experience that HR and hiring managers want to hear and learn about more."