Cynthia Per-Lee, Corporate Vice President at Microsoft, spoke about diversity and inclusion at the inaugural Owen Inc. event
By Kara Sherrer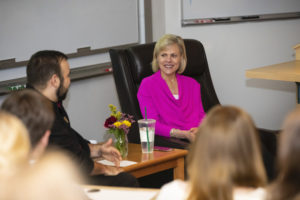 Cynthia Per-Lee, Corporate Vice President at Microsoft, is working every day to make diversity and inclusion a core pillar of the workplace. She believes that approaching conversations with curiosity, showing up for what matters, and practicing empathy foster an environment that attracts the top employees. In a globally competitive market, hiring outstanding minds means creating an atmosphere where employees feel confident bringing their full selves to work.
Per-Lee, a Vanderbilt graduate, came to speak on campus earlier this month as part of the Owen Inc. Speaker Series. After expressing her excitement at returning to campus, she kicked off her interactive talk by telling students, "The only thing that I will tell you is: if you ask, I will answer." In an engaging dialogue between speaker and audience, Per-Lee unpacked the methods of creating and promoting a culture of diversity and inclusion at work.
Practice Curiosity in Difficult Conversations
In her efforts to make Microsoft a diverse workplace, Per-Lee has learned the importance of curiosity, which goes a long way during potentially difficult conversations. She also discussed the importance of appreciating every perspective and trying to ask questions instead of deeming things right or wrong. "I can choose to be curious and really try to understand them…what are we solving for?" she said.
Per-Lee encouraged students to practice curiosity during the job search process itself. She pointed out that many major corporations are backing up political and cultural issues across the globe, so it's helpful for job seekers to analyze who their potential company is supporting and why — and if the company's values align with your own. When evaluating whether a company is a fit, Per-Lee suggested that candidates ask "Where are you? Where are we?"
Per-Lee explained that both companies and employees have a perspective, and it is more important now than ever to express it. Whether it be natural disasters or political issues, companies are expected to engage and support causes that align with their own values. "It's no longer acceptable not to take a position," she said.
Show Up For What Matters
To Per-Lee, diversity can't happen in the workplace unless the company is dedicated to showing up. In her mind, showing up means taking a stance, backing it, and creating a culture where opinions are respected. "I see the company reflects my values, and shows up," she explained when asked what makes Microsoft's culture the place for her.
Per-Lee discussed how showing up creates a positive cycle: as a company stands up for an issue, it helps attract employees who are strong advocates and curious allies — and strong people managers have a huge multiplier effect towards creating and activating inclusive culture. "I see the company living the talk, I see them actively taking steps to help people understand privilege, and what it means to be an ally," she said.
Learn How to Empathize With Others
Per-Lee explained the importance of developing and practicing empathy when forming a culture of inclusion. She believes that having empathy is crucial in all aspects of life, but especially when communicating with people different from yourself. "I believe, if we as a human race, endeavored to develop more empathy, we would find progress faster… inclusion progress," she said.
Per-Lee described how empathy is developed from the genuine practice of maintaining an open mind. At business schools like Vanderbilt, students participate in diverse teams with varying opinions. Per-Lee explained how empathy can turn disagreement into beneficial learning experiences for the entire team.
Finally, Per-Lee ended her talk with words of encouragement for those in search of their next company —"find a place where you can go be you" — and to those looking to hire their next employee, she concluded, "…have a place where they want to come."