With commencement postponed until next spring, the Owen community rallied to celebrate graduates online
By Nathaniel Luce
When Vanderbilt made the decision to postpone Commencement 2020 until the following spring, Vanderbilt's Owen Graduate School of Management quickly started development on an alternative, virtual celebration for this year's graduates, in conjunction with the University's efforts.
In a matter of two weeks, faculty, staff, and students were able to put together online programming to honor the graduating class, award prizes, and reflect on the past year (two years for the MBAs), which launched on and around the original commencement date of May 8.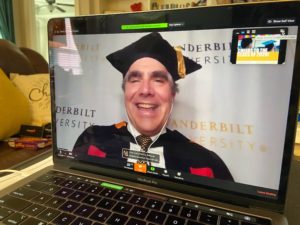 On Thursday, May 7, Dean Johnson revealed student and faculty awards via Zoom conference. Faculty, staff, and students celebrated their peers' success, and parents attended as well.
On Friday, May 8, Interim Chancellor and Provost Susan Wente delivered a heartfelt campus-wide address to students, culminating in the conferring of degrees. After the address aired, Owen launched the Class of 2020 celebration page, which honors graduates and award winners, looks back at the last two years, and more.
In a congratulatory message to the Owen community, Dean Johnson noted, "It's been a tough year, but this class has shown unprecedented strength and resilience. Now more than ever, it is important to recognize the accomplishments of our community."