1. Request an Account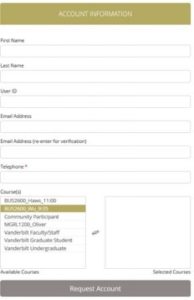 You must first request an account with our online participant management system.  Creating an account will allow you to view a list of available studies, sign up for studies, and provide the research administrator a way to share study updates with you.
Click this link and provide your complete first & last name, a user ID, a valid e-mail address & a phone number. Vanderbilt students and staff must use their Vanderbilt e-mail address. Your User ID can be any combination of letters or numbers, and must not already be in use. Send an e-mail to researchadmin@vanderbilt.edu if you have questions about requesting an account.
To request an account, click here. 
2. Log in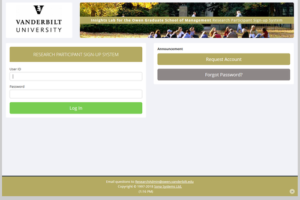 Soon after you enter your contact info & click "Request Account," an e-mail will be sent to you with log-in instructions and a temporary password. Once you log-in you may change your password.
If you have junk mail (spam) filters configured for your email, please configure the filters to accept email from vanderbilt-owen-admin@sona-systems.net, as emails from the system will be sent from that address.
To visit the login page, click here.
3. View available studies and sign up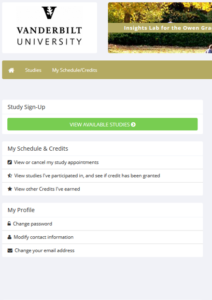 Once you log in, you will see a main screen that allows you to view or sign up for available studies, view or cancel study appointments, and manage your profile settings. After clicking on "View Available Studies," you can select individual studies to read more information about them and sign up for specific time slots. New time slots can appear, so please check back occasionally.