Thomas Hayes and Ethan Siegel (both MBA'22) participated in the annual case competition, and Hayes' team took home first place
Each year, PepsiCo — parent company of Pepsi, Frito-Lay, Tropicana, Gatorade, and Quaker — sponsors a case competition. Normally the event is held at the Texas Christian University (TCU) Neeley School of Business, but this year it was held virtually due to the ongoing coronavirus pandemic. First-year, full-time MBA students apply as individuals and are placed on teams with students from other schools. Teams compete for a total of $15,000 in prize money: a $7,000 grand prize, a $5,000 second place prize, and a $3,000 third place prize. Two students who participated this year reflect on their experiences below:
Ethan Siegel (MBA'22)
Entering business school, I was eager to participate in experiential learning opportunities. As a first-year MBA student, I knew that much of graduate business learning occurs via case study analysis, and I was excited to explore real-world business problems by analyzing how organizations overcome challenges, make strategic decisions, and drive growth for their business. Most classes at Owen incorporate case-based analysis into course pedagogy — subject matter is supplemented by business case analysis. These cases typically contain an open-ended problem, forcing students both to think critically about the situation and to develop their own recommendations to solve the problem.
After attending Professor Brian McCann's "Case Competition Overview" Zoom call in early September, I began researching potential case competitions to participate in. For me, case competitions were the ideal way to gain hands-on experiences: What better way to solve business problems then solving a real-life problem for a real-world company?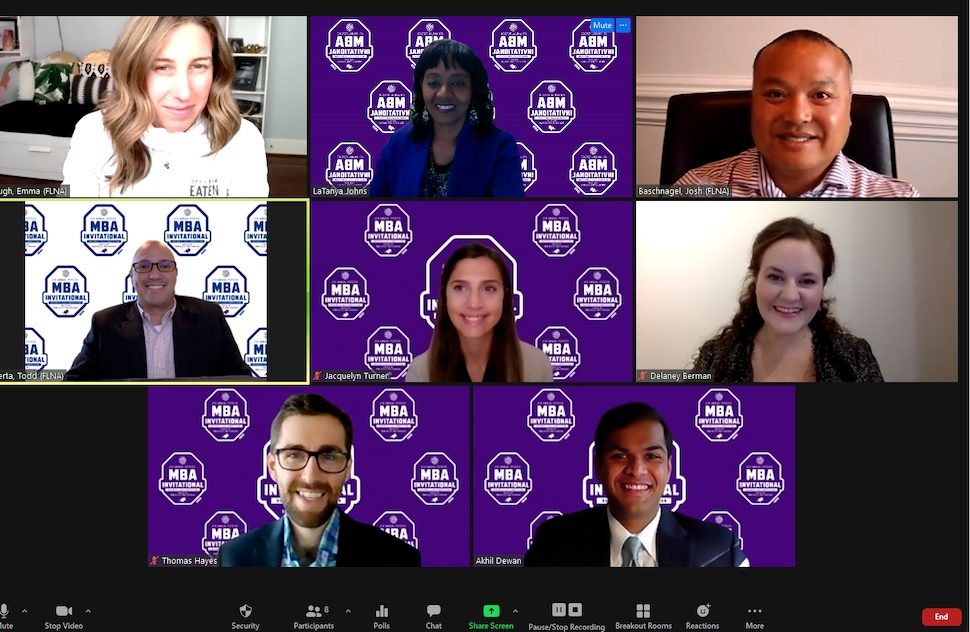 I came across the 6th Annual PepsiCo MBA Invitational Business Case Competition hosted by Texas Christian University (TCU). I quickly applied to participate — I was eager to leverage my prior experience as a consultant at Aon to help PepsiCo solve a business problem. Not long after applying, I had been accepted into the competition. Unlike most case competitions, where you form a team of your peers, the PepsiCo Invitational randomly assigned teams with students from business schools across the country. On the first night of the competition, following the kick-off call, I learned I would be partnered with MBA students from TCU, Duke, and the University of Maryland. I was excited to work with and learn from my teammates during this virtual competition.
The following morning, the competition began. The case was emailed to us at 9:30 a.m., and we had until 6:30 p.m. to develop our recommendations and create a presentation. We were tasked with determining how PepsiCo could increase e-commerce sales of a seltzer water product line and a children's snack brand by leveraging the strength of the seltzer water to drive growth for the snack brand. Having just met my teammates the night prior, we had to quickly understand everyone's strengths, develop group norms, and create a plan of action to deliver the recommendations in time. We worked diligently throughout the day developing our presentation. We submitted it just before the deadline. The presentation occurred the following morning. Our team spoke in front of three PepsiCo executives, each eager to hear our solution to the case.
Presenting our recommendations was a rewarding experience. I was proud of the work our team put in and even prouder of the recommendations we made. Of the nine teams to participate, only three advanced to the final round. While we did not place, the experience was a rewarding one. I made new connections, collaborated with other MBA candidates, and developed and presented a solution to a complex, real-world problem that PepsiCo is facing today. I am thankful for PepsiCo, TCU, and Owen for giving me the opportunity to participate in this invitational and look forward to participating in another competition soon! —Ethan Siegel
Thomas Hayes (MBA'22)
The PepsiCo MBA Invitational Business Case Competition is a remarkable experience on how to work in a team given limited time and information. As a first-year MBA student at Vanderbilt, I was able to use my multidisciplinary coursework — specifically finance, marketing, and operations — to succeed in the competition.  This unique competition brings together students from top MBA programs to form cross-collegiate teams; my team included students from the TCU, Rice, and SMU programs.
The case competition is normally held in Fort Worth, TX, but 2020 is not a normal year. Due to the pandemic, the event was held virtually, as is the case for most of our MBA experiences which would typically require travel. Although this virtual environment changed the competition, my team was able to effectively interact over Zoom and Microsoft Teams and the experience did not disappoint. The long hours of Zoom meetings had some interesting events, including one of our teammates losing power and meeting another's feisty dog.
The competition asks students to evaluate a cross-disciplinary business challenge at PepsiCo and propose a solution to PepsiCo's leadership. Each of the 12 teams participating delivered a 15-minute presentation followed by 20 minutes of Q&A in which judges evaluated the depth of analysis and recommendation. Utilizing a general management mindset, our team strategized and created an effective plan to present to leadership using skills and insights learned in business school. We were busy preparing for the presentations — with some nerves heading into the finals — but our hard work paid off and our team won first place!
Working in a team constructed on the principles of authenticity, openness, and humility led to our success, and I am grateful for the connections I made during the two-day competition. I know this accomplishment would not have been possible without the classroom experiences at Owen, the incredible contributions of my teammates, and support from PepsiCo. —Thomas Hayes