Discover what healthcare management is and how to position yourself for one of these advanced roles
By Kara Sherrer
You're passionate about healthcare, and you'd like to move into management-level roles, so you're wondering if a career in healthcare management might be the right fit for you. However, you're not exactly sure what healthcare management involves, or how to get a position in the area. To get the lowdown on healthcare management jobs, we talked to Burch Wood, Director of Health Care Programs at Vanderbilt Business, to learn more about what they entail and how to get started in healthcare management.
What Is Healthcare Management?
Healthcare management can take many different forms. Broadly speaking, healthcare management roles fall into 2 categories: clinical and non-clinical. Examples of clinical healthcare management jobs would be a physician acting as a director of a treatment center, or a nurse manager overseeing a unit of staff. Non-clinical roles might range from an administrator at a hospital to an operations manager at a pharmaceutical company.
Generally speaking, clinical healthcare managers get started on the clinical side of the business, then find themselves moving into management roles as they gain experience and responsibilities. "A lot of people go into the clinical side thinking that's going to be one way and it's not, or finding that they've run into a problem after years of doing clinical work. And the way they learn to solve that problem is to work with management in some way, and they find that they like it," Wood explained. "It runs the gamut as to when they get pulled into the administrative side, and not all of them do. Some people are lifelong clinicians, and they prefer that."
Some non-clinical managers know that they are interested in the business side of healthcare from the beginning of their careers, so they start at the bottom and work their up way through the company ladder or hospital administration. Others realize they are interested in healthcare management later on and leverage past experience or a degree such as an MBA to move into a management role more directly.
Wood says that both clinical and non-clinical healthcare management roles do have certain commonalities, including what qualities employers want to see in candidates. "What they're looking for at those levels is always someone who has some accounting, some operational, and some strategic experience so that they can understand how to how to move the levers of the company to help make the best profit and to help their patients in the best way — or to help whoever their stakeholder is in the best way, if they're not in delivery.
"At some level of health care management, you have to be worried about the industry as a whole. You want to you want to understand a lot about the industry as a whole to understand what each individual piece is doing," he added.
How to Get Started in Healthcare Management?
There are several ways determine if healthcare management is the right move. For career switchers who don't have a lot of experience in healthcare, Wood recommends getting some as soon as possible. "The first thing I tell them is that they need to go out and find some project work in healthcare and decide if they like healthcare," he said. "Healthcare is a unique field, and some people like it, some people don't. The quicker you get into it, find out if you like it (and if) you're interested in that management side of the world, the better for you."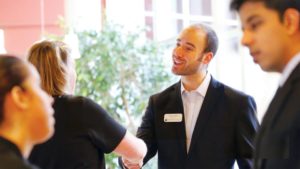 For both clinicians and non-clinicians, Wood also advises networking and learning from more experienced healthcare managers who work in roles similar to the ones you want to pursue. "Health care is a relationship business… the quicker you do networking and you get to know one another, (the better)," he said. "Most people, if they have time, will give you a minute for coffee and talk about what they do, especially if you're not looking for something (and) it's not transactional."
Finally, Wood also says that certain healthcare graduate degree programs can help position students to take on healthcare management roles. For career switchers more interested in non-clinical management roles, he recommends a daytime MBA program with a healthcare concentration, such as the one offered by Vanderbilt Business. For clinicians already working in healthcare, a more specialized degree program such as the Master of Management in Health Care is usually a better fit.
"They feel a little long in the tooth to go sit and take a full-time MBA, or they don't want to take 2 years off to do an MBA," he explained. "It takes a special clinician who's interested in business to want that business degree. That's why they're coming to my (MMHC) program."
To learn more about healthcare management degrees, visit the website pages for the MBA and MMHC programs.