By Lily Kane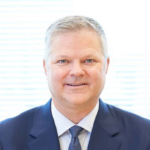 Derek Young (MBA'91) is President of Fidelity International's Japan operations and the new board chair of the Owen Asia Alumni Board. In the Q&A below, Young discusses what motivated him to accept the board chair role and reflects on what goals the board hopes to achieve.
What motivated you to accept the role of chair for the Asian Alumni Board?
I had the privilege of having some amazing finance professors who motivated my desire to be engaged with Owen beyond graduation. I was fortunate enough to secure a job out of Owen with the Federal Reserve Board in Washington, D.C. on Chairman Alan Greenspan's staff though a guest lecturer in Dewey Daane's class at Owen. Dewey was so helpful in supporting me early in my career, including introducing me to his friends from the Fed like Paul Volcker, the former Chairman of the Board. I also had a great relationship with Hans Stoll who made a presentation to the Board of Governors at the Fed after I had just joined and was so kind to me as a recent graduate back in the early 1990's. Later, when I came to my first Alumni Board meeting, Hans hosted me to welcome me back to campus. It was raining and he insisted on driving me around to make my life easier. He also invited me out to his house on the lake and took me on a boat tour. Hans and Dewey were both so kind to me and made me realize how fortunate I was to have professors who were mentors and friends to me after I graduated from Owen. Their kindness and unselfish sharing of their time and energy for Owen were perfect role models for me to follow when I was fortunate enough to have Jim Bradford ask me to join the Alumni Board.
What goals do you hope to achieve through the Asia Alumni Board? 
I have been in Japan for two years now and have learned quickly that the Asian culture requires many decades of experience to fully appreciate. I am at my best here when I am paired up with Asian colleagues who can help me translate my American ways of thinking to thoughts that work well here in Asia. When I first thought about us building an Asia Alumni Board, I thought about my dear friend Heiki Miki (MBA'96) in Japan who has been one of our most active Board members at Owen in the U.S. and who I have known for years through Owen. I know how much experience he has here in Japan and in Asia supporting Owen's mission, and I assumed there were others in Asia like Heiki who have much more experience than me. It turns out we have a fabulous core group of Asia experts — Michael Chandler (MBA'00), Xiaoyan Jiang (MBA'01), my old classmate Anand Kumar (MBA'91), Qinglin "Austin" Na (MBA'95), Ian Yee Hang Wan (BA'06, MBA'08) — who, along with Heiki, are inaugural members of the board. At our meeting we worked together to propose goals which I think are exceptional for our first year of the Asia Alumni Board. We decided on that our focus will be: 1) recruiting Asian students, 2) placing students in jobs and internships in Asia, and 3) marketing Owen in Asia. I hope we can achieve success meeting all three goals and welcome thoughts from anyone who may have ideas for us.
What are some specific advantages to building a network in this region? 
When we think about future global growth, Asia is a logical area of focus for global growth leadership. I find it interesting to look at the mature wealth of Japan as the world's third wealthiest nation and the growing wealth of China as the world's second wealthiest nation behind the U.S. Asia already has an amazingly strong presence in the world as measured by wealth that is expected to only get stronger. We need to make sure that we have a network in Asia that both reflects the current opportunities in the region and that also leverages the many future growth opportunities that we expect to see in Asia.
The opportunities for students, faculty and staff to grow from deeper connections throughout Asia is significant. I feel like we currently have connectivity between Owen in Nashville and Asia, but it seems more like a series of "footbridges" with a limited amount of traffic moving back and forth.  As we look to the future, I would love to see Owen design and build "multi-lane bridges" across Asia to Nashville. These will give the Owen family the opportunity to travel back and forth with a high degree of frequency and volume, with many generous alumni waiting on the Asia side to help share their collective expertise and find opportunities to bring back learnings from Asia to Nashville.
There are tremendous opportunities to leverage our expertise in Asia, but we will have to look to build common reasons and purposes for constant sharing of thoughts and research with Asia. As a finance major, for example, I think about all the work that Owen has done to help with the structure of financial markets and regulation in the U.S. and believe that so many of those learnings could help in Asia, as well. I can't help but wonder if we could someday consider building a satellite Financial Markets Research Center in Asia, for instance.  I'm sure there are many other examples of world-class research around Owen to think about in a similar way. More specifically, I'm curious to find ways to build partnerships in Asia that provide new paths of opportunities for our students, faculty and staff.
How can this type of global expansion elevate Owen's brand?
Our ability to continue to grow the Owen brand globally is heavily dependent on creating a significant and strong presence in Asia. We need to increase Owen's connectivity with the success and growth of Asia. We must sort out how to get better connected with recruiting Asian students and placing students, Asian and non-Asian, into jobs and internships in Asia to create greater connectivity with future global growth leveraging our well recognized global educational brand throughout Asia. We need to make this happen as soon as possible and have much to leverage already from alumni here in Asia.
I do think that finding the right ways to market our Owen brand here in Asia — a goal I give our board member Austin credit for raising — will help us with our brand building and identity. In my limited time in Asia, I can see the strong affinity for U.S. brands, particularly in areas where the U.S. has strong brand presence, and that is why I think that leveraging the Vanderbilt/Owen brand here more aggressively has promising upside for us. We will be working more on specific action plans for this in the Asia Alumni Board.
Does this new board formalize any ad hoc alumni organizing in the region?
We sure hope so. Several board members, including myself, travel extensively around Asia (particularly pre-COVID-19), and we have discussed how great it will be to have ad hoc events around Asia as we travel. We would love to begin to enhance alumni groups that have already been built in Asia and build new ones wherever possible. I believe that a grassroots effort is the best way to do this, so we will keep looking for ways to make sure that the Asia Alumni Board connects with our alumni in Asia. Xiaoyan, one of our board members, is connected to a WeChat group of Owen Alumni in China, and she has offered to set up a WeChat event for the Asia Alumni Board to connect with alumni in China. Heiki, before joining this board, already has a strong alumni group here in Tokyo that we will work with too. As you can tell, we already have a strong grassroots base to build from and will continue to look for ways to expand.
Is there anything you'd like to add?
I would like to close by thanking Dean Johnson, Erik Kahill and the entire Owen staff who have given us this opportunity and their support to build out Owen's Asia Alumni Board.  I am excited to be a part of this and appreciate everyone's commitment, including our inaugural board members. I look forward to continuing to build our Owen network in Asia, so that we all can be proud of it. I would also encourage all alumni who have the chance to visit Asia for whatever reason to consider connecting with Owen alums in Asia. If my experience is any indication, I suspect you will enjoy meeting Owen alumni in Asia, and I am confident that you will get amazing recommendations for restaurants, lodging, activities, etc. Asia offers so many amazing life experiences, and I would encourage you all to think about visiting to experience it yourself firsthand.