Since 1974, Professor J. Dewey Daane's Seminar in Monetary and Fiscal Policy has connected Owen students to some of the most influential figures in the professional business community locally, nationally, and globally
By Lily Kane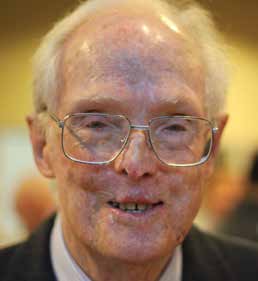 Since 1974, Professor J. Dewey Daane's Seminar in Monetary and Fiscal Policy has connected Owen students to some of the most influential figures in the professional business community locally, nationally, and globally. Staff director of the Senate Budget Committee (G. William Hoagland); senior fellow in the Economic Studies program at the Brookings Institution and former vice chairman of the Federal Reserve (Don Kohn); former chairman of the Federal Reserve (Paul Volcker); a former vice president of the Federal Reserve Bank of New York (Gretchen Greene Yeo)—these were among the many visiting guests who shared their insights weekly in Daane's seminar. The access Owen students received was so intimate and off-the-cuff, they banned press from the accompanying luncheons with members of the Nashville business community.
Thanks to an endowed gift from a group of donors whose lives Daane impacted, his legacy will continue in perpetuity through the series now known as the Daane Forum.
Daane's relationship with Vanderbilt started, his wife Barbara recalls, "with a tennis match." On a business trip to Chicago, Daane was paired for doubles by the club tennis pro with Vanderbilt alumnus and Owen benefactor Brownlee Currey and Commerce Union Bank CEO Ed Nelson. The bond they formed would lead Currey to court Daane to Owen where he was the Frank K. Houston Professor of Finance until his death in 2017.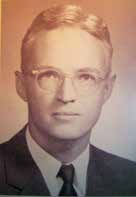 The seminar thrived largely because of the network Daane built throughout his career, including in his previous role as an appointee of President John F. Kennedy to the Federal Reserve Board of Governors. For nearly five decades the visiting speakers stayed at the Daane's home where Barbara jokingly called the seminar "Changing the Sheets 102." The comprehensive guestbooks she kept feature entries from leaders and pioneers in national and international monetary and fiscal policy. "It was a labor of love," Barbara says, "and it continues to be."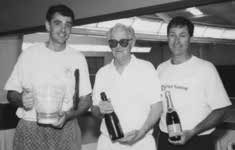 The seminar is now taught by David Parsley, E. Bronson Ingram Professor of Economics and Finance. Parsley took the class over towards the end of Daane's career though, he recalls, "that first year, Dewey attended each class to make sure I did it right."
With the endowed support, Parsley looks forward to being able to provide a stipend and honorarium to continue to attract top-level speakers when travel resumes, as well as staff support for coordinating the luncheon series. His goals also include expanding immersive learning experiences and seed grants for research resulting from seminar topics, and avenues for sharing research more broadly with the Vanderbilt community and the public.