Caroline Broler (EMBA'20) leveraged the program to get a marketing role at one of the biggest names in consumer packaged brands
By Katie Bahr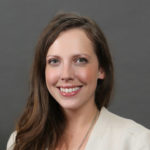 Caroline Broler (EMBA'20) learned marketing research and strategy entirely through experience before joining Vanderbilt's Executive MBA program. Her undergraduate degree in English and history fostered an evidence-based approach to her work that applied even in the sales and marketing jobs that launched her career.
"Research has really informed my professional mindset," Broler said. "Working in sales and advertising, I gravitated towards the market research or analytics teams."
A project working with a team researching client demographics and trends exposed her to the digital side of marketing, and she soon joined a digital media agency, working as an analyst on paid search. "Working with a brand manager helped me understand the role marketing plays in short-term sales and how that contributes to long term growth," Broler said. "That planted the seed for getting an MBA, and perhaps a career in brand management and decision making."
Broler's first move down that career path was a job at Nielsen, working on digital data management and audience strategy. Less than a year in, she knew it was time to pursue her MBA to broaden her horizons. The decision led to a promotion during the EMBA program, when she became an associate manager for consumer and market intelligence at General Mills.
"Going back to school really helped me define my curiosity, talent, my longer-term vision, and the role that's perfect for me," she said. "Having an MBA really set me apart when I found it. Even during the uncertainty of a pandemic, I was very fortunate to make such a huge career change."
Click through her timeline below to see how better business insight powered Broler's career path.