The reality TV star and jewelry business founder spoke on campus as part of an event hosted by the Owen Women's Business Association
By Deneen Schaudies (MBA'21), Women's Business Association VP Board Member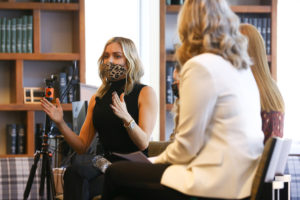 The Owen Women's Business Association (WBA) had the honor of hosting Kristin Cavallari in person and virtually for a talk show-style Q&A session. Kristin is a 3-time New York Times best-selling author, has produced a hit reality TV show, and is the founder of the popular jewelry line Uncommon James. She first rose to fame as a cast member on the popular MTV reality television series Laguna Beach and has since leveraged her career into media and business success.
I hosted the in-person event while WBA Executive Vice President Marley McMillan (MBA'21) provided an introduction via Zoom. WBA President Katie Poe (MBA'21) and VP Board Member Stephanie Jones (MBA'21) served as moderators.
Even with all her success, Kristin could not have been more humble, personable, and approachable with the women of Owen. Kristin provided amazing advice and wisdom about being a female entrepreneur while also often making us laugh. When asked about being a "girl in a boys'" game, Kristin had an answer that resonated with so many of the women at Owen. She said being a woman shouldn't be a "crutch," we all can play and compete on the same level as the boys. Kristin said she doesn't see herself as a female entrepreneur, simply an entrepreneur.
Kristin continued to speak about female empowerment and personal growth. Regarding starting a business, she emphasized the importance of surrounding yourself with a hardworking loyal team, and not being afraid to take risks. A shoe line with Chinese Laundry was the beginning of Kristin's journey to become a #bossbabe. After realizing she knew her customer better than anyone else better, Kristin knew she needed to branch out and start her own company. Kristin said that knowing your customer and staying true to what you offering your customer is key in building a brand. Kristin opened up to the women about her past, how she got to where she is today, and let us in on some exciting new projects she has coming up.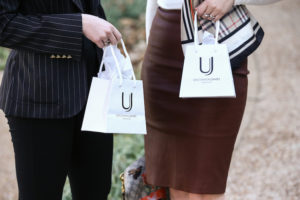 Kristin's drive and perseverance were apparent throughout the event and also part of what enabled the event itself to happen. The WBA had originally scheduled Kristin to come to Owen in April of 2020. Kristin and her executive assistant worked closely with the WBA over the past year to make this very special event happen. To help remind the women of Owen how strong and powerful we are as women, Kristin graciously gave everyone a pair of earrings from her Uncommon James jewelry line appropriately named "Girl Boss."
For more information on other upcoming WBA events, visit our Anchor Link page.