A casual conversation about her Executive MBA program led Joan Dyer (EMBA'20) to a major promotion at Deloitte
By Katie Bahr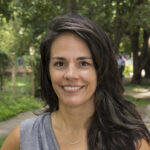 A focus on analytics led Joan Dyer (EMBA'20) along a career path that began in digital marketing and transitioned into enterprise IT. After leading software development teams for 10 years, she knew that taking the next step in her career would require an MBA.
"I began my career when AdWords, FLASH, and SEO were hot topics," she said. "Businesses were becoming more data-driven, and marketing had gone pretty digital."
Dyer built websites, dug into analytics, and began leading teams to develop brand marketing strategies online. She helped bring a 100-year-old organization into the digital economy and worked on pivotal projects in the music industry to streamline data exchanges for digital music licensing.
"They were such exciting projects, especially my work at BMI," Dyer said. "At the time, it was my dream job to build a system that could process the exponentially larger data volume from sources like Netflix and YouTube while they were first exploding onto the scene."
As her technical delivery experience broadened, though, so did Dyer's aspirations. She realized that working with larger, cross-functional teams would require a graduate-level business degree, and Vanderbilt's Executive MBA program was her first choice.
"I really wanted to develop a solid, overall foundation for running a business," she said. "Vanderbilt's reputation as a challenging program with great networking opportunities really stood out."
The program's rigor and strong reputation opened doors for Dyer, leading to 2 job opportunities at Deloitte: a promotion during her first year and later an offer to become chief of staff for Deloitte's global audit and assurance CIO after graduation. Click through her timeline below to see how classes and conversations launched her career leaps.