He is the most decorated educator at Vanderbilt Owen Graduate School of Management
By Nathaniel Luce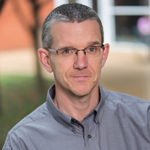 M. Eric Johnson announced that the Chancellor and the Provost have approved the promotion of Brian T. McCann (MBA'04) to the rank of Professor, effective fall semester 2021. The rank of Professor represents the School's final judgment of overall professional maturity that defines our direction and vision.
As a Vanderbilt alumnus, Brian was a 2004 Founder's Medalist. He arrived at Vanderbilt in 2009 after completing his PhD in Strategic Management at Purdue University's Krannert School of Management. Brian earned tenure as Associate Professor in 2015. His research interests span strategic management and entrepreneurship, including the performance implications of firm agglomeration, effects of ownership structure on competitive behaviors, and the role of threshold-based decision making in the entrepreneurial process. He is a recognized expert in the area of geographic agglomeration, the propensity of similar firms to locate in proximity to one another. Through his publications, Brian has established himself as a leading researcher in this relatively new—and growing—conceptualization in the Strategy literature.
Brian's teaching has spanned the Executive and Daytime MBA programs, the MMHC program, and non-degree executive education. In 2021, he won both the daytime MBA and EMBA classroom teaching awards. In his 11 years at Vanderbilt, he has been awarded the Executive MBA teaching award 9 times and the Webb teaching award 7 times, making him the most decorated educator at Vanderbilt Owen Graduate School of Management. He currently teaches courses focused on strategic management in the EMBA and MBA programs. He is also a recognized textbook author. His co-authored foundational microeconomics text, Managerial Economics: A Problem-Solving Approach, is now in its 5th edition (2018). His students note that he forces them to challenge assumptions, using data and logic to push deeper into strategic problems.
Brian is an editorial board member at 5 journals; the first 4 of which are Financial Times Top 50 Journals: Academy of Management Review, Entrepreneurship Theory and Practice, Journal of Business Venturing, Strategic Entrepreneurship Journal, and Strategic Management Review. He serves as the faculty advisor to the Turner Family Center, area coordinator for the Strategy and Business Economics area, and on several important Owen committees, including the Executive MBA Program Committee and the Curriculum Committee.