Marketing professor lauded for impact in research and the classroom
By Nathaniel Luce
Dean M. Eric Johnson announced that the Chancellor and the Provost have approved the promotion of Kelly Goldsmith to the rank of Professor, effective fall semester 2021. The rank of Professor represents the School's final judgment of overall professional maturity that defines our direction and vision.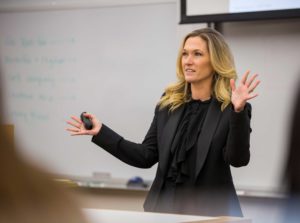 Professor Goldsmith began her academic career in 2009 at Northwestern University after earning her PhD in Marketing from Yale University in that year. She joined Vanderbilt in the fall of 2017 as Associate Professor of Marketing (with tenure). She is a behavioral scientist who examines consumers' responses to uncertainty and scarcity. To develop her hypotheses, she uses a multi-disciplinary framework, drawing on cognitive psychology, social psychology, economics, and marketing. She conducts her studies in consumer settings, grounding the theoretical work that underpins her research questions in real-world contexts. The primary focus of her scholarship is in identifying and, more importantly, explaining seemingly paradoxical attributes of human behavior. For example, in one stream of inquiry, she finds that resource scarcity can lead consumers to be more generous, not just more selfish. Her work also establishes that resource scarcity can increase consumers' interest in low-cost sustainable products, because resource scarcity presents a constraint to goal achievement, which can trigger abstract thinking. Because her research bridges theory and practice, it contributes not only to more nuanced theories of consumer decision making, but also to new techniques that marketers, firms, and policy makers can implement.
Kelly teaches two advanced MBA elective courses in the daytime MBA program to student acclaim, Quantitative Analysis for Marketing (MGT 6463) and Marketing Strategy (MGT 6560). Students comment on her passion, energy, and attention to timely applications. An analysis of the students' comments in course evaluations led the faculty review committee to term the students' praise as "effusive."
Kelly has served on the editorial boards of the Journal of the Academy of Marketing Science, Journal of Marketing Research, Journal of Consumer Research, and Journal of Consumer Psychology. Since coming to Owen in 2017, she has served on several committees including the Diversity and Inclusion Advisory Board and the Master of Marketing Program Committee. She is the faculty advisor to the Vanderbilt Marketing Association and is the co-founder of the Vanderbilt Marketing Hub.