Last fall, the Vanderbilt community was invited to hear unique insights and discussions with business leaders and innovators at Owen Forward, a weeklong virtual celebration of the Owen School.
By Morgan Kroll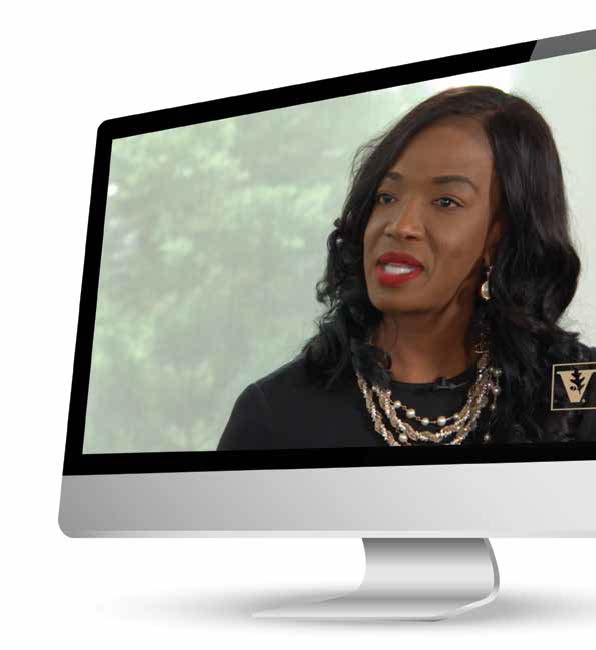 Held Nov. 9–13, 2020, the series featured alumni, faculty and students presenting on topics including managing through crises, social enterprise, entrepreneurship and more.
The week's events garnered positive feedback from participants, prompting the school to expand the Owen Forward series to encompasse all alumni programming. The new series aims to bring engaging opportunities for collaboration, inquiry and discovery, such as the kickoff week in November, as well as more recent events, including a virtual conference held in March exploring sustainability. Owen's Alumni Fireside Speakers Series will also be included under the Owen Forward programming umbrella.
November Weeklong Celebration Highlights Alumni Business Leaders
November's Owen Forward week focused on a wide range of topics, including the centers for innovation and social enterprise on Vanderbilt's campus. Mario Avila, MBA'12, founding director of the Turner Family Center for Social Ventures at Vanderbilt, described the center's role as a resource for students working to drive meaningful social change through revenue-generating businesses. Professor for the Practice of Management and Innovation David A. Owens spoke about tech innovation occurring at another vital campus hub, the Wond'ry, Vanderbilt's Innovation Center. Owens described the Wond'ry as an "ecosystem fueled by inspiration" and a safe place to tinker with ideas and explore what is possible through innovation.
A session with Geoff Walker, MBA'94, CEO and president of Kid-Kraft, also stressed the importance of innovation in business. In his conversation with M. Eric Johnson, Ralph Owen Dean and Bruce D. Henderson Professor of Strategy, Walker discussed the importance of cultivating a culture of risk and disruption to drive innovation in the toy industry.
"Companies are learning that they have to bring in different types of mindsets," Walker said. "The entrepreneurial thinking that comes in that can grow a company through blue sky opportunities is important." Other sessions looked at the numerous ways the pandemic has impacted how they lead. Cindy Kent, MBA'99, executive vice president and president of senior living, Brookdale Senior Living, Inc., discussed with Rangaraj Ramanujam, Richard M. and Betty Ruth Miller Professor of Healthcare Management, how her organization solidified its position as a trusted industry partner when the pandemic began. Kent noted how other senior living operators turned to Brookdale for guidance on ways to keep residents safe, further elevating the business's reputation as a trusted partner in the industry.
Paul Jacobson, MBA'97, who recently joined General Motors as executive vice president and CFO after many years with Delta Air Lines, underscored the importance of adhering to company values and promises during periods of upheaval. "In times of crisis, the brand promises and the brand values of the company stand out. They stand out for better or for worse," Jacobson said. "If you violate these principles and the values of your brand, you can expect that your customers are going to notice."
The week's programming culminated in a keynote address by Adena Friedman, MBA'93, CEO of Nasdaq, on the future of capitalism and widening access to capital for all. "The construct of capitalism is foundational to the success of this country and, frankly, to the global economy today," Friedman said.
The Future of Sustainability
March was Sustainability Month for Owen Forward beginning with a Fireside Speaker Series on sustainable investments March 2, 2021, by Wendy Cromwell, vice chair; senior managing director; partner; director, sustainable investment for Wellington Management. Following the fireside chat was a half-day virtual conference The Future of Sustainability, on March 15, 2021, featuring Vanderbilt administrators, faculty and alumni in dialogue in panels moderated by Dean Johnson.
The conference began with Mark Cohen, Justin Potter Professor of American Competitive Enterprise and professor of law and University Fellow, Resources for the Future, Owen Graduate School of Management; and Mike Vandenbergh, David Daniels Allen Distinguished Chair in Law; Director, Climate Change Research Network; co-director, Energy, Environment and Land Use Program, Vanderbilt Law School; in conversation about the trajectory of the sustainability movement.
Cohen and Vandenbergh examined how sustainability has moved beyond social and political spheres to become a business imperative facing leaders across industries. The pair discussed how sustainability has become a top priority in the past few decades for students, emerging business leaders and industry veterans.
The conference also examined how businesses are finding innovative ways to add renewable energy into their portfolio. The session "Innovating the Energy Mix Dialogue," featuring Ashley Lykins, MBA'09, head of North America sustainability for Nike; Matt Beasley, MBA'09, chief commercial officer for Silicon Ranch; Aaron Melda, EMBA'11, senior vice president of transmission and power supply for the Tennessee Valley Authority; and Eric Kopstain, vice chancellor for administration at Vanderbilt, emphasized the importance of partnerships in achieving ambitious energy goals.
Vanderbilt's commitment to power its campus entirely through renewable energy and to achieve carbon neutrality through a partnership with the Tennessee Valley Authority and Nashville Electric Service was highlighted as a model for successful collaboration among government, business and universities. The renewable power for Vanderbilt and Nashville will come from a solar farm built in Tullahoma, Tennessee, by Nashville-based Silicon Ranch Corporation.

Silicon Ranch's COO Matt Beasley expounded on the universal importance of sustainability in business, noting, "Our company was founded by a former Democratic governor. I'm the son of a former Republican party chairman, and I have always believed that this is not about political ideology. Certainly, more than ever before, it's about economics, it's about economic development. It's about energy independence. It's about a lot of values that cross party lines."
The conference's final session, "Diverse Energy Portfolios," included Jim Rossi, Judge D.L. Lansden Chair in Law, Vanderbilt Law School; Bill Baerg, MBA'95, vice president of investor relations, Energy Transfer; Katrina Kaufman, MBA'96, chief commercial officer–Penn LNG, Penn America Energy Holdings LLC; and Lisa Ryder, MBA'06, senior vice president–utilities, power and renewable energy, KeyBanc Capital Markets.
The panelists looked broadly at how energy portfolios have become increasingly important around the globe, creating challenges, such as the February 2021 power grid failures in Texas, and opportunities, such as the growth of a $23 trillion global clean energy market due to transitioning to a net-zero economy.
Recordings of Owen Forward events are available on the school's YouTube channel. Alumni are encouraged to contact Owen's Alumni Engagement Office at owen.alum@vanderbilt.edu if they have an idea for a future event or would like to participate in an upcoming program.