Students and alumni discuss career paths and professional experiences, share wisdom, and more at the 2021 Marketing Symposium
By Lacie Blankenship
The Owen Marketing Association (OMA) hosted its annual Marketing Symposium in early September. 
Similar to the HOP Symposium hosted in August, the Marketing Symposium is an annual event that prioritizes educating MBA and Master of Marketing students on the range of opportunities in marketing. 
"The [Marketing] Symposium is a big event for anyone and everyone to learn about different careers in marketing," says Jack Cogan, President of the OMA. "It's a way to see what all is out there for after graduation [related to marketing] and meet alumni that can speak to different experiences in marketing." 
To kick off the event, the OMA hosted a quick lunch in the Owen Courtyard for classmates and alumni to informally gather before moving inside for the program. 
Cogan noted that he was pleased with the success and engagement of this year's event and its hybrid format; attendees joined in person, while alumni speakers joined virtually.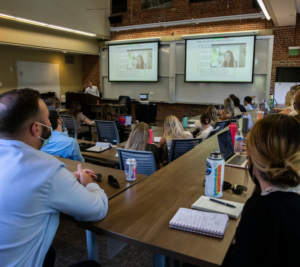 "It worked out great that our speakers streamed in," says Cogan.  "We set it up so that they could see the whole room; they could see the room laugh whenever they told a joke and it felt completely in-person even though the speakers weren't there," says Cogan. 
Thanks to the coordination of the OMA Board (Cogan, Jared Hahne, Kacie Frates, Sibley Weiland, Melissa Telle, and Sydney Frank), alumni from esteemed brands participate in the Symposium each year. For 2021, alumni working at General Mills, Starbucks, Amazon, Salesforce, Peloton, Kraft Heinz, and more virtually participated.
"[The OMA] really tried to show that we are excited about marketing and that we want to share this excitement with others, we had music, lunch, and an all-star cast of alumni," says Cogan.
Cogan claims that the Symposium helps students understand that marketing careers reach broader than just advertising production. Speakers discussed roles in brand management, executive positions, customer insight roles, and more.
"By attending the Symposium, students can see that marketing is the closest thing you can get to entrepreneurship, without the risk of being an entrepreneur," says Cogan. "When you're put in charge of a brand, you're running a significant part of the business and we have alumni that can speak to that." 
Later in Mod 2, the OMA will be hosting another keystone event, Marketing Madness. This upcoming event will give students the opportunity to explore marketing projects through hands-on experience with global brands, according to Cogan.