In this edition of People of Vanderbilt, we spotlight MS Finance student Shanice Garner
By Arial Starks
Vanderbilt Business is known across the globe for its high caliber of students, faculty, and staff. In this edition of People of Vanderbilt, we spotlight MS Finance student Shanice Garner, who shares a little about herself.
What's your secret talent?
I can sew, knit, and crochet. One project I am currently working on is a t-shirt quilt.
Who or what empowers you at Owen?
The representation of POC across Owen has been extremely empowering. I get together with the Black women of Owen, and I am always inspired by their accomplishments, intelligence, and kindness. Representation matters, and I am proud that Owen has created a community that embraces diversity and where POC and LGBTQIA+ feel respected.
What are one or 2 experiences that have really shaped your time here at Owen?
The Leadership Development Program (LDP) and in-class lectures have shaped my time here at Owen. The LDP program was a great experience that allowed me to challenge myself and reflect on the aspirations/career goals I have set. Speaking with an executive coach enabled me to be honest and focused on what I need to develop during my time at Owen and beyond. The faculty here at Owen are truly one-of-a-kind. In-class lectures, specifically the Machine Learning courses taught by Jesse Blocher and Negotiations taught by Jamie Leddin, increased my confidence and prepared me for my first full-time role.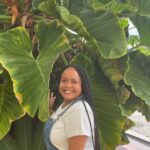 What's your favorite way to connect with the Owen community?
My favorite way to connect with the Owen community is by participating in Closing Bell. All programs get to come together in a relaxed setting and get to know each other. Closing Bell has always been a safe space, and I have thoroughly enjoyed learning about the different organizations at Owen and being exposed to the different places in Nashville.
What's something you've learned about yourself during your time at Owen?
Being authentic and yourself is the best that you can offer to people. At Owen, you are encouraged to put your best foot forward and focus on what you can bring to the table.