In this edition of People of Vanderbilt, we spotlight MS Finance student Lauren Thomas
By Arial Starks
Vanderbilt Business is known across the globe for its high caliber of students, faculty, and staff. In this edition of People of Vanderbilt, we spotlight MS Finance student Lauren Thomas, who shares a little about herself.
What's your secret talent?

I have been a competitive swimmer since age 7, and I currently swim on Vanderbilt's team. It's not very secret, but it absorbs any talent in my body.
Who or what empowers you at Owen?

One of my favorite parts of Owen is the community's relentless passion for creating opportunity out of their passions. If someone is interested in creating a business, they network with alumni, take entrepreneurship classes, and even try their hand at building prototypes over at the Wond'ry. These individuals inspire me to say yes to (nearly) every opportunity that comes my way. Owen is working toward creating an environment that mirrors the evolving world around, taking next steps to explore gaps in diversity and accessibility for all populations. I am encouraged by joining small group conversations where faculty takes time to listen to students about where and how to reimagine Owen's culture. As a woman in the finance program, I am also motivated by the several wonderful women on our admissions board that push for diverse representation.
What are 1 or 2 experiences that have really shaped your time here at Owen?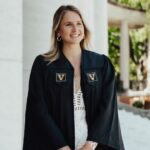 I had the pleasure of hearing Chancellor Daniel Diermeier come and speak to my Corporate Strategy for Environmental, Social & Governance issues course with Mark Cohen. Diermeier's perspective on the responsibility of businesses outside of their day-to-day operations reminded me why I came to business school in the first place. Beyond the balance sheets and financial forecast models, there is a greater calling to those that study business. Since hearing him speak, I try to imagine the high-level business implications of any granular coursework on the daily. Taking negotiations was one of the best course-related decisions I made at Owen. I took the same course as an undergraduate student at Vanderbilt and believe it should be required for every student. Learning to conduct yourself in a professional setting where you have non-negotiable targets teaches you to stand up for yourself. Whether it's for a client or yourself, it's an essential life skill. Having the confidence to (respectfully) disagree and compromise I am very fortunate to have studied it under Jessica Kennedy, a fantastic role model for women in business.
What's your favorite way to connect with the Owen community?
Every Thursday, I try to make it to the Closing Bell to see friends from Owen. I've enjoyed taking classes with members in the Owen community outside of the MSF program. It's wonderful to be in an environment where people genuinely want to get to know each other and share life together.
What's something you've learned about yourself during your time at Owen?
Everyone has something to contribute, regardless of background or experience level. As someone that came directly from undergrad, I never imagined I'd work alongside individuals with years of industry experience. Never being afraid to ask a question or volunteer my opinion has been critical to my Owen experience. When you have an open mind and a willingness to learn from others, you can do anything. Owen has taught me that a lifelong curiosity for the world can be used to reimagine the future of business.
Are you in a leadership role associated with Owen? If so, name the organization and title.
As a Student Admissions Coordinator for the MSF program, I have the privilege of spending time interacting with potential students to understand how pivotal an Owen program could be to their future. Individuals find me through the role and reach out as a starting point of interest. Being someone's first perception of Owen means the world to me and I look forward to continuing these conversations well after my role ends. I am also a Captain of the Women's Swim Team at Vanderbilt and use the intersection of these roles as an opportunity to introduce many athletes to a future at Owen.