The 2022 edition featured an International Professor Panel, International Student Spotlight, Chat Roulette, and Closing Bell
By Lacie Blankenship
The Owen Student Government Association (OSGA) recently hosted its 3rd annual Cosmopolitan (Cosmo) Week, uniting Vanderbilt Business students and professors from 40+ countries. 
"One of our goals with Cosmopolitan Week is to broaden the Vanderbilt Business community's view of the world," said Ariba Qureshi (MBA'23), Co-Vice President of Diversity, Equity, and Inclusion for OSGA. "We kind of get stuck in the routine of what's going on every day and forget that the world is a really big place. Hearing from both professors and students allows us to expand our horizons and hopefully give us a fresh perspective."
This year, with the help of the Global Business Association (GBA) and the Vanderbilt Business Healthcare Association (VBHA), the OSGA was able to host a series of events throughout the last week of March. 
International Professor Panel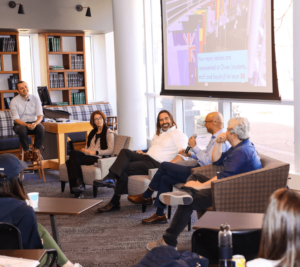 Open to the entire school community, the panel featured Rangaraj Ramanujam, Richard M. and Betty Ruth Miller Professor of Management and Professor of Health Policy;  Veronika Krepely Pool, Professor of Finance; Miguel Palacios, Adjunct Professor of Finance; Vlad Mares, Visiting Professor from INSEAD; and Mumin Kurtulus, Associate Professor of Operations Management, who moderated the panel. Empanadas from Que Delicias were catered for all attendees to enjoy.
While attendees enjoyed empanadas from Nashville's own Que Delicias, the panelists discussed their experiences as international professors, what brought them to America, and what they've learned while being here. They also offered ways to support the Owen international community.
International Student Spotlight
The GBA and OBSA collaborated to create a space for international students to share their personal stories and experiences. Participating students included Sharon Hyesun Shim from South Korea, Rishabh Singh from India, Himiko Sakurai from Japan, and Patrick Kraushaar from Germany (all MBA'24). The GBA provided a light, global-inspired dinner consisting of various Bánh Mí from Banh Mi and Roll+; baklava from Greko Street Food; mango lassi from Amaravati Indian Cuisine; and Inca Kola from K&S World Market.
Chat Roulette
The OSGA hosted a lunch hour 'Chat Roulette'-style event where classmates had the opportunity to mingle informally. Set up like a speed-dating event, Chat Roulette's goal was to help Vanderbilt Business students expand their network beyond their typical circles. The OSGA provided a variety of international snacks from K&S World Market and Costco.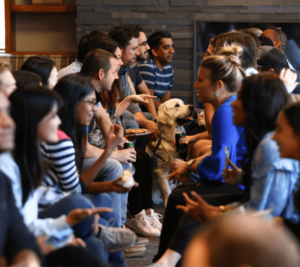 "Chat Roulette participants enjoyed discovering how much they had in common with each other through questions like favorite music, places they want to visit, and teaching phrases in one's language," said Zerleena Khan (MBA'23), OSGA Vice President of International Affairs. "It was fun to see people step out of their comfort zone and try new snacks they were unaware of." 
"Chat Roulette was a unique experience where folks could get to know one another a little bit and have conversations with people that they might not otherwise get to talk to," added Qureshi.
Closing Bell
The VBHA and OSGA wrapped the week with a co-hosted Closing Bell at The Dogwood. Students were encouraged to wear clothes representative of their native countries/cultures. 
"We [OSGA] were so excited to bring back Cosmopolitan Week this year as a way to support our international students and create more community around them," says Qureshi. "This annual event is a really exciting opportunity for Vanderbilt Business to be inclusive of our international students and our professors while getting to know them on a more personal scale."