In this edition of People of Vanderbilt, we spotlight MBA student Ali Buchanan
By Arial Starks
Vanderbilt Business is known across the globe for its high caliber of students, faculty, and staff. In this edition of People of Vanderbilt, we spotlight MBA student Ali Buchanan, who shares a little about herself.
What's your secret talent?
Properly packing a suitcase. I don't know if that is necessarily considered a talent, but it's a helpful skill!
Who or what empowers you at Vanderbilt?
My classmates continue to amaze me! Their ability to constantly offer support and encouragement while juggling a million other responsibilities of their own is incredible.
What are 1 or 2 experiences that have really shaped your time here at Vanderbilt?

During the first few weeks of the program, we wrote a "Leadership User Manual" that we shared in our selected teams during Leading Teams and Organizations. We were still practically strangers at that time (which is crazy to imagine), and it was a helpful introduction to learn more about my team members and think critically about my own leadership style in a new setting. Completing the Leadership Development Executive Coaching program throughout the year helped me refine these skills to learn how to work best with different individuals. After being a member of about 15 teams over the past year with different teamwork and leadership styles, I'm thankful for these experiences and think that the team-oriented culture at Owen really shapes us all.
What's your favorite way to connect with the Vanderbilt community?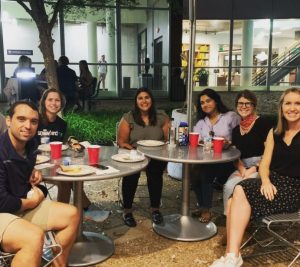 Closing Bell is one of my favorite ways to connect with my peers outside of the classroom. I love the opportunity to have conversations where I learn something new about one of my classmates, have the chance to meet their pets/family, or chat about exciting ideas.
What's something you've learned about yourself during your time at Vanderbilt?
I have learned what I am capable of, and that I sincerely enjoy a challenge. Being forced to step outside of my comfort zone helped me conquer several fears and shaped me personally and professionally.
Looking back on your time here at Vanderbilt, what is one of your favorite memories, activities, or rituals?
One of my favorite memories is the International Food Fair. It was an incredible experience to learn more about different cultures and try incredible dishes made by my classmates!
Looking forward, what are you most excited about this year?
I'm excited to offer the support and encouragement to the incoming students that the second year students offered us. The first few months of the program can be overwhelming, and having a point of contact that was recently in your shoes is comforting.
Are you in a leadership role associated with Vanderbilt? If so, name the organization and title?
I am the Owen Cork & Barrel Society President and Owen Marketing Association VP of Finance & Events.