In this edition of People of Vanderbilt, we spotlight MBA student Megan Andereck
By Arial Starks
Vanderbilt Business is known across the globe for its high caliber of students, faculty, and staff. In this edition of People of Vanderbilt, we spotlight MBA student Megan Andereck, who shares a little about herself.

What's your secret talent?

Finding gems on Facebook Marketplace. I love home decor and design and have furnished a large portion of my home from thrifted finds on Facebook Marketplace. My favorite find was a bright red curio cabinet. I purchased it for cheap, painted it black, and now it sits in my dining space and is one of my favorite pieces in our home.
Who or what empowers you at Vanderbilt?

Feeling known by my classmates. I love the size of Owen. I can walk down the hall and recognize most people's faces. My class is amazing; everyone wants the best for one another and is genuinely interested in getting to know each other.

What are 1 or 2 experiences that have really shaped your time here at Vanderbilt?

1) Taking Launching the Venture with Dr. Burcham. It is the hardest class I have taken at Owen, but what I learned was invaluable in developing my interest in entrepreneurship. At the beginning of the mod, everyone in the class pitches a business idea and the class votes on their favorite 5-6 ideas. The people with the winning ideas become the CEOs of their teams and "hire" other classmates onto their teams. My idea was selected and I had the opportunity to work with my team to build out a business plan and pitch deck for investors through the mod. At the end of the mod, we actually pitched to investors and received great feedback. I'm still interested in developing the business further in the future.
2) Getting involved with the Women's Business Association. I love the community of women at Owen, and the WBA has provided a way to get to know all of the women in both social and academic settings. I'll never forget the exam review sessions the WBA hosted Mod 1 for finance and accounting and the sense of community I felt being in a room with all my first-year women classmates navigating exam season for the first time in business school.
What's your favorite way to connect with the Vanderbilt community?
I've loved connecting with my classmates over meals. My husband and I had the chance to host Thanksgiving at our house this year for everyone who stayed in town for the holiday. It was such a beautiful way to get to know classmates I hadn't spent much time with yet. Everyone brought a dish, and we sat around the table and shared about our lives and why we were grateful. It remains one of my favorite memories so far at Owen.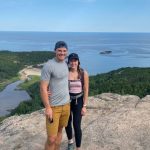 What's something you've learned about yourself during your time at Vanderbilt?

Just because I don't know how to do something or don't have experience with it, doesn't mean I can't learn how to do it. It was intimidating coming into a quant-heavy program from a creative background, but I was reminded Mod 1 that just because something doesn't come easily, doesn't mean it can't be learned with practice. I saw this time and time again with my quantitative and analytical classes. They are harder for me at first until I can figure out how to approach them, but many of them have ended up being my favorite classes at Owen.
Looking forward, what are you most excited about this year?
I'm excited to see our class lead next year. I love our class – it's made up of so many talented, kind, and passionate people – and watching the leadership transition in Mod 3 has made me so excited to see how our class will lead. We have so many people who are ready to implement new ideas and challenge the status quo. I'm really honored to be a part of this class.
Are you in a leadership role associated with Vanderbilt? If so, name the organization and title.
Women's Business Association – VP of Prospective Students Honor Council – Vice Chair DAR Fellows – Fellow Board Fellows – Sitting on the board with Nashville Ballet