Kristen Chester (MBA'14) launches fashion brand Casa Danu on medical and maternity leave
By Arial Starks
In this special edition of People of Vanderbilt, we spotlight Vanderbilt MBA alum Kristen Chester. Kristen graduated from Vanderbilt Business with an MBA in 2014 before starting a career in consulting at Deloitte in Atlanta. During her time at Deloitte, she was promoted twice, to manager and then senior manager. Since Kristen was a little girl, she knew she wanted to someday own her own business. But, it wasn't until the winter of 2020, around year 6 of her consulting career at Deloitte, that she felt her dream would ever come to fruition. 
Kristen was 6.5 months pregnant with her son in January 2020 when she was diagnosed with breast cancer, prompting her to take a leave of absence from work earlier than her planned maternity leave. While the COVID-19 Pandemic spread across the U.S. she went through several rounds of chemotherapy, a double mastectomy, and multiple rounds of reconstruction.
"During that period, I spent most of my time at doctor's appointments or in bed, and was at my worst physically, mentally, and emotionally," said Chester. "I felt and looked like a shadow of my former self. I remember catching myself in the mirror one day – sad, exhausted, balding, and bloated from treatments and having a newborn – and just thought 'this isn't you'."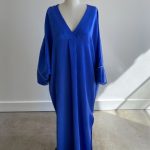 In addition, the oversized sweatpants and men's t-shirts she had been sporting were comfortable, but did nothing to elevate her mood. Kristen desperately wanted to wear something that would make her feel "beautiful" and "alive," because she knew that even though she couldn't change her circumstances, she could do simple things to make herself feel better.
"I wanted to wear clothes that were colorful, bold, and glamorous, but also comfortable, because I was going through treatment," Chester said. "A spark hit me – why couldn't I live in fabulous 1960s-esque caftans?"
When she couldn't find what she was looking for, Kristen began researching what it would take to start her own clothing line.
"I came upon an incubator for sustainable fashion start-ups,"she said. "I saw they had applications for their next cohort due the following day, and so, on a whim, I put an application in, and they accepted me. That was last June (2021), and now I'm launching my brand, Casa Danu, this June (2022)."
Casa Danu revealed its designs and exclusive print in January and began development of the first collection soon after. In March, the business had several fittings and is now making final tweaks to perfect the garments as Kristen anxiously awaits the launch of her first collection, La Dolce Vita. The spring/summer-inspired collection will feature colorful caftans and matching sets that she hopes will transport her customers to the Italian Riviera, even if just mentally.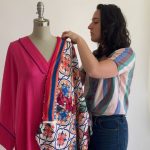 While Kristen's business idea for her clothing line came during the darkest time in her life, she is excited to see how her clothes can light up the lives of her customers and give them the confidence they need to tackle whatever curveballs life throws their way.
"My mission with Casa Danu is to help women bring out the most colorful, bold, and enlivened versions of themselves. I just happen to be doing it through clothes," Chester said.
Click here to follow Kristen's journey and learn more about Casa Danu's launch.