In this edition of People of Vanderbilt, we spotlight MBA student Ariba Quershi
By Arial Starks
Vanderbilt Business is known across the globe for its high caliber of students, faculty, and staff. In this edition of People of Vanderbilt, we spotlight MBA student Ariba Quershi, who shares a little about herself.
What's your secret talent?

It's not a "secret," but I love to cook! I have a few favorite food writers I follow and trying out a new recipe once a weekend has become one of my favorite activities. That, and stalking estate sales.
Who or what empowers you at Vanderbilt?

The community at Owen! I have found such strength in my classmates. Walking into the program with a non-traditional background, I wasn't sure what to expect, but by being vulnerable and open to learning from others, I have found support in our community. Because of this, I have felt comfortable to take on leadership positions in organizations that I may not have otherwise done.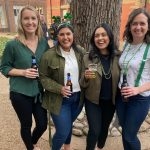 What are 1 or 2 experiences that have really shaped your time here at Vanderbilt?

Getting involved with the Owen Student Government Association and the Women's Business Association. When I started at Owen, I knew because of the size of the program, I had a unique opportunity to be involved and create a community in a way that I wasn't in my undergraduate institution. It has been so rewarding to be able to build programs that not only benefit our class but to plan ahead so that future Owen students can continue to build on our work.
What's your favorite way to connect with the Vanderbilt community?
The informal ways that we have gathered have always been my favorite. Whether it be running into someone in the "halls" or in the courtyard. Finding time to have a quick coffee or lunch with someone I haven't seen in a while allows for organic connection, especially in a time when we were networking constantly, and takes the pressure off of one another as well.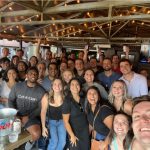 What's something you've learned about yourself during your time at Vanderbilt?

Learning to balance! Being in Nashville for 7 years, I came to Owen because I wanted to stay in the city; learning how to maintain relationships in my Owen community and my Nashville community became especially important. When I first arrived at school, I wanted to do everything, all the time and learning that taking a step back to focus on what was important was a huge lesson.
Looking forward, what are you most excited about this year?
I'm excited for our class to have a space of our own! We've created a community to the best of our ability given the constraints we faced with construction, so I'm thrilled to have a space where we can see classmates and faculty on a more regular basis, and work towards building an even stronger community with one another (and our future classmates!)
Are you in a leadership role associated with Vanderbilt? If so, name the organization and title.

I serve as VP of DE&I, Owen Student Government Association VP of External Affairs, and Women's Business Association.