Student teams tackle marketing objectives the Graduate Hotel, Kirkland's Home, and a Vanderbilt Co-Branded Craft Beer
By Lacie Blankenship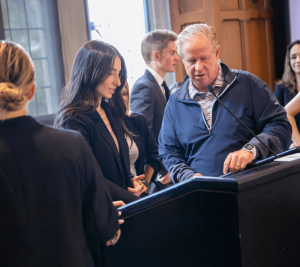 BrandWeek, one of many immersion programs at Vanderbilt Owen Graduate School of Management, offers students an opportunity to solve marketing problems for real clients in a competitive environment. 
"The essence of BrandWeek is putting a lot of smart and eager students together, exposing them to companies, and having them investigate real problems that these companies have," says Steve Hoeffler, Professor of Marketing and BrandWeek organizer.
61 Master of Marketing students participated in 2022 BrandWeek October 10-12. 
BrandWeek typically consists of a large-scale, 3-day  challenge offered to student teams on Monday morning that culminates with final presentations on the third day, with smaller-scale challenges sprinkled in throughout the week. The shorter challenges must be completed in  3-hour time blocks, wherein the company presents its challenges and teams hustle to brainstorm and craft a solution that's presented to company representatives at the conclusion of the time block. The company then gives feedback to each team and chooses a winning solution that best addresses its needs. 
2022 BrandWeek's 3-day challenge was to help the Graduate Hotel creatively and authentically tap into the wedding industry. The shorter challenges saw teams brainstorming ideas for Kirkland's Home, including loyalty programs, events, and campaigns. Students were also challenged to create a new product, a co-branded craft beer for Vanderbilt University Sports Marketing and multiple potential local and national craft beer providers. 
"We decided to differentiate our team by offering not one beer but 3: Black and Golden Ale, Anchor Down IPA, and Mr. C's Cider," said participant Morgan Young (MMark'23) in a LinkedIn post. "This provided optimal choices in flavor and diversity of packaging labels to appeal to all sports fans, rather than one stereotypical persona. This awarded us the win!"  
"Students that participate in BrandWeek walk away with hands-on experience developing real marketing solutions," says Hoeffler. "Each year, the students get to join forces with exceptional brands and gain invaluable experience working on teams with their peers."