In this edition of People of Vanderbilt, we spotlight MAcc Assurance student Taylor Oshana
By Arial Starks
Vanderbilt Business is known across the globe for its high caliber of students, faculty, and staff. In this edition of People of Vanderbilt, we spotlight MAcc student Taylor Oshana, who shares a little about herself.
What's your secret talent?

I can say the alphabet backwards really fast.
Who or what empowers you at Vanderbilt?

I feel empowered when I think about everything we've done in a short period of time. At the start of this program, I was overwhelmed by how much new information was being thrown at me. I had no idea what auditing was. I won't lie, the first few weeks were rough for me, because I wasn't having the experience I'd hoped for. So I took matters into my own hands, starting off with office hours. I started off with one professor whose class confused me in every aspect. He listened to my concerns. Somewhere in there, I mentioned my interests as they relate to my undergrad studies, and he responded excitedly with, "If you just stick with this, you will be perfect for public accounting. They need more people like you who bring this perspective to the work." He even followed up our conversation with an email thanking me for sharing my thoughts. That made me feel empowered as I moved forward with schoolwork. Instead of worrying about the time flying by, I've been able to reframe and appreciate each day. Some are harder than others for sure. With the end goal in mind, it's easier for me to stay motivated with my work. Having support from my professors has really encouraged me. We don't have much time in this program, so it's cool to take a step back and acknowledge the work we're doing.
What are 1 or 2 experiences that have really shaped your time here at Vanderbilt?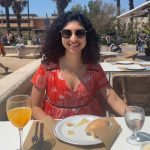 I've had some lovely conversations with my professors. I frequent office hours because of my confusion with the material (not so confused anymore!). Each time I've visited, I start out with one intention, and the conversation evolves into something bigger. This has happened with multiple professors so far, which I appreciate, because it allows me to learn more about the other person and their interests. It means a lot to me to be able to have a relationship outside the classroom, allowing each of us to show the other that we care. I've also appreciated the Owen-sponsored events, like the Dean's reception at the start of the school year. That was a fun way to get to know my classmates better and meet people from other programs. We are all working very hard and moving quickly through tons of content. I appreciate any time we have the space to leave Vanderbilt's campus and connect with one another personally. I know I've already mentioned this, but relationships are very important to me, because it gives me better insight into who I'm surrounded by. The Dean's reception was a great way to start off the school year, and I look forward to the other events we might have.
What's your favorite way to connect with the Vanderbilt community?
I've appreciated seeing my classmates outside of the classroom setting, whether that be doing work with them or hanging out over the weekends. It's easier to get to know a person when they're not sitting in a 1.5-hour lecture trying to take notes as quickly as possible. Being part of the MAcc program has made it easier for me to get to know my classmates, since we're so small and in all our classes together. Emily, our program director, has also been very helpful in finding ways for us to do things together. Recently, we played sand volleyball as a class (a good portion of the class was able to make it). That was a fun way to wrap up the week. The sun was shining, there was a light breeze, we were eating and drinking. It was very peaceful. I love any opportunity that pushes us outside the classroom and allows us to be together in different ways, where we don't have to talk about assignments or upcoming tests.
What's something you've learned about yourself during your time at Vanderbilt?
I've learned how to identify my needs and adjust my habits to accommodate. One example is my learning style. In the past, I tended to be more productive working on my own because I get distracted by people. The conversation would take a turn, and I'd focus on that new topic rather than the task at hand. However, with all this new information, I find myself staying in Owen longer and looking to collaborate more to see what I can learn from my peers. Working alone made me feel lonely, so I started asking different classmates to work together. And I'm not as distracted as I'd expected to be! Overall, the transition to grad school was tough because of how many changes I was experiencing. There were times when I was overcome with emotion to the point where I couldn't focus on schoolwork. There were other times where I sat and did work for so long, I forgot to eat. I noticed changes (not good ones) in my mood and physical state and had to reevaluate. After some conversations with friends, family, and faculty, I felt invigorated and ready to revamp. I've grown more in tune with my needs and how my mind and body are affected. In a short amount of time, I've been able to adapt my habits and routine to what's going on in the moment as opposed to staying stuck in my ways.
Looking back on your time at Vanderbilt, what is one of your favorite memories, activities, or rituals?
I really enjoy going to Closing Bell every week and seeing classmates and other familiar faces. It's been a good way to meet people from different programs or catch up with people I don't get to see often. I also love that we don't (technically) have classes on Fridays, so Closing Bell is a lovely way to wrap up each week. It also gives me something to look forward to. Four-day weeks are much easier to handle than 5-day weeks. It also serves as a good starting point for other plans with my cohort, because most of us are going to be there anyways. Then, we might go out to dinner or celebrate a birthday afterwards, which is sweet.
Looking forward, what are you most excited about this year?
I'm excited for the events that Owen throws. If you haven't guessed by now, my favorite part of school has always been the social side. I've heard great things about different gatherings and events, so I'm excited to experience them for myself. I am also looking forward to all the learning. Having been through Mod 1, I am surprised and slightly impressed by how much I've learned. At the start, it was hard to gauge what I was retaining. In the last few weeks, I've noticed different class concepts creeping into my personal interests and feeling ready to have conversations about different audit/accounting-related topics (so interesting, I know). I love learning (although I don't love the classroom setting), so being able to see these topics in real life makes me feel more engaged. I also feel better about the career I chose after knowing little to nothing about it at the start of the program!