Vanderbilt Business alumnae from Bain, BCG, Deloitte, EY, and PwC spoke at the panel
By Rachael Perrotta
Five Vanderbilt Business graduates from Bain, BCG, Deloitte, EY, and PwC spoke at Vanderbilt Business this month as part of the first annual Women in Consulting Panel. 
The alumnae reflected on their time at Vanderbilt, their careers, and their experience as women in consulting. They also discussed how attending Vanderbilt Business has helped them succeed professionally.

Owen's Women's Business Association (WBA) and Strategy and Consulting Club (OSCC) co-hosted the event on Nov. 11. Although the discussion was focused on consulting, Emilia Banks, OSCC president (MBA'23), says the alumnae gave advice applicable to all corporate fields.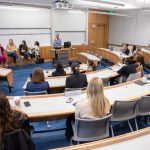 "We wanted to include women from many consulting programs because there are so many opportunities in consulting outside of what you might think of as the generalist model," Rachel Alden, WBA vice president of alumni relations (MBA'23), said. 
Brian McCann, David K. Wilson Professor of Management, moderated the panel at the alumnae's request. Alden said he encouraged and supported the event and received positive feedback from attendees.  
"[His class] is one of the best classes you can take on campus," Banks said. "The alumnae remembered him fondly."
The event was open to female-identifying students at Vanderbilt Business, and around 30 students attended. Banks explains that the event was designed to ensure that female attendees were prioritized in getting face-to-face time with the alumnae.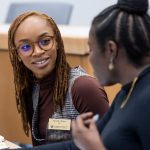 "We had a one-hour networking brunch after the panel, so all of the students were able to engage directly with the panelists," Banks said. "That opportunity was very strong for their networking options, particularly for the women trying to go into consulting."
Attendees said the networking brunch was helpful to their professional journeys. First-year students also benefited from hearing about the alumnae's transition to business school as they transition themselves.
"[The alumnae] were glad to have a captive audience for their questions!" Banks said. 
In the future, Banks said the event will be held earlier in the year so that students can hear from alumnae before choosing their career path. She added that more sessions of the panel will be held next year to include more alumnae and give students more opportunities to attend. 
"They can come and hear from the alumnae before they decide their club involvement or true recruiting path," Banks said.