Poston will support student engagement and well-being, exchange programs, and signature school-wide events
By Lacie Blankenship
McKenzie (Kenzie) Poston has joined Vanderbilt Owen Graduate School of Management as Program Manager, Academic and Student Affairs (ASA).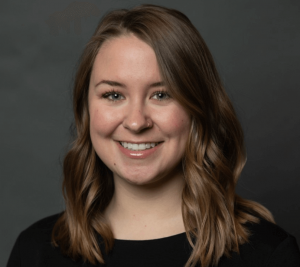 Poston will support student engagement and well-being, the revitalization of exchange programs, and schoolwide signature events like Orientation and Commencement. She will spearhead student club events (Closing Bells), case competitions, and programming for international students. 
"I am thrilled to join the ASA team at Vanderbilt," says Poston. "It is exciting to work alongside a group so dedicated to student experiences." 
Poston previously worked in Student Affairs at Vanderbilt, where she served as Program Coordinator, Student Organizations, Leadership, and Service. She has 3 years of experience working in higher education in the student organization development, leadership, and service space. She has also worked at the University of Georgia, Furman University, and Clemson University. 
"Helping students connect with each other and their community is a passion of mine," says Poston. "What happens outside of the classroom is extremely important to the success and wellbeing of students." 
Poston received her BS in Communications Studies: Journalism and Electronic Media from the University of Tennessee, Knoxville, and a Master of Education in Counselor Education: Student Affairs from Clemson University. 
"The Vanderbilt Business community is one of a kind and I am delighted to join the mission to provide a world-class business education on a personal scale," says Poston. 
Outside of work, Poston enjoys cooking, gardening, attending concerts, and spending time outdoors with her dog. She also loves to travel; she has been to 16 countries and lived in Florence, Italy, before attending graduate school.